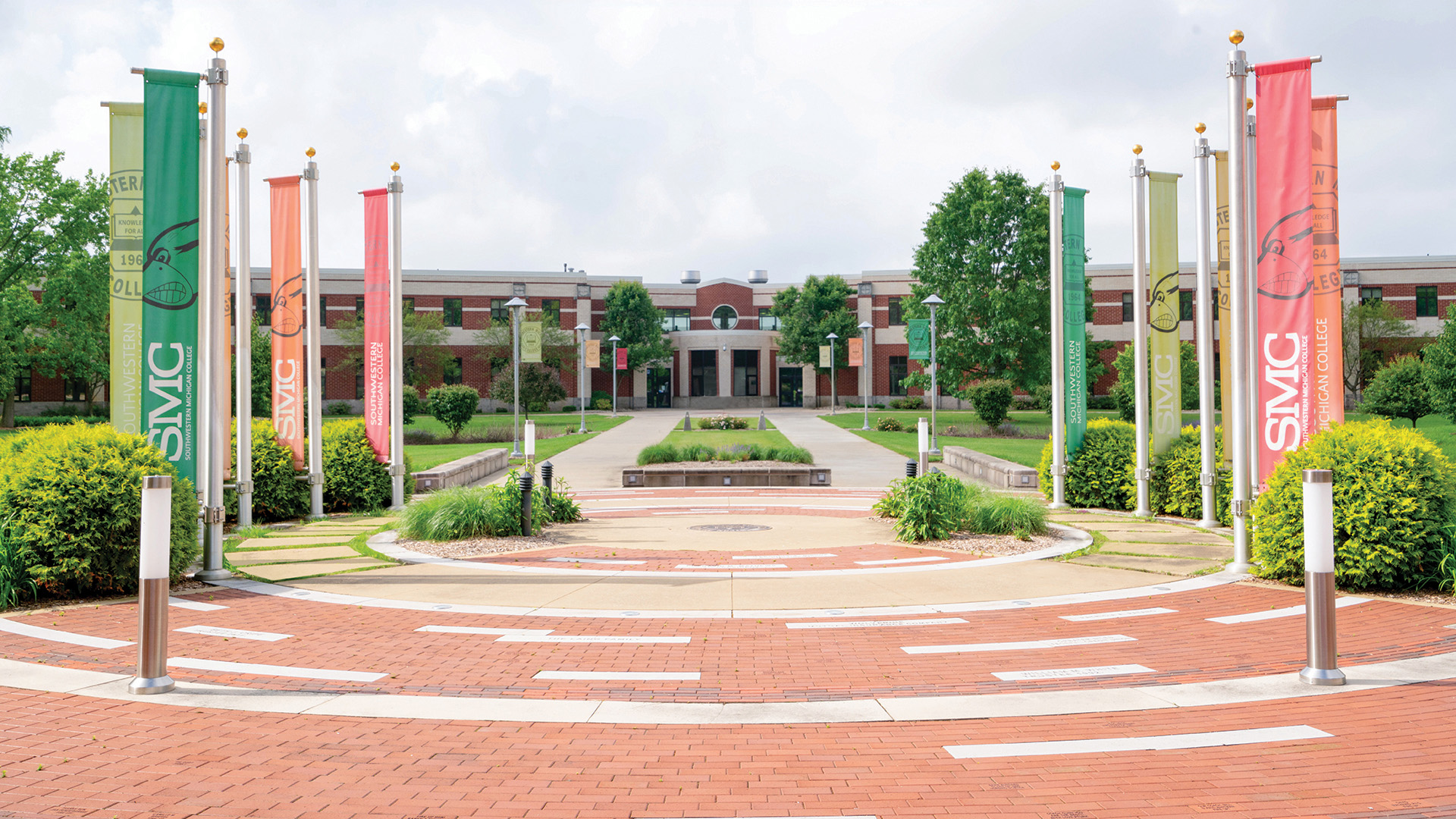 The Fieldhouse Effect
Published on December 20, 2022 - 10 a.m.
Southwestern Michigan College Volleyball Coach Jenny Nate was first to feel the full effect of 1st Source Bank Fieldhouse.
The centerpiece of SMC's NJCAA intercollegiate athletics renaissance after 25 years is like having a seventh player on the floor between the way it fills her team with confidence and the intimidation factor from a raucous sea of green-clad fans waving emerald pom-pons and homemade signs.
"It's been incredible playing here," Nate said. "We pinch ourselves at the unbelievable facilities we have. Ours is the absolute leader in first-class everything. Of course that affects the way we play. We have the whole school behind us. The energy is electric!"
"Putting our players in a facility like this," Nate said, "we play a little tougher. (SMC President) Dr. Joe (Odenwald) is there giving me fist bumps when the bus departs and when the match is over, he's posting about it. He's part of the excitement, challenging other schools and presidents. The support is unmatched."
Athletic Director Rodell Davis's men's basketball team and Jeanine Wasielewski's women's basketball team have also felt the Fieldhouse effect for themselves, including a pep band and the Ladybirds women's dance team.
Zac Sartori's All-Academic cross-country squads picked up where they left off in 2021, with both nationally ranked.
"During the 2000s we invested in first-class student housing, eventually building three residence halls with 390 beds on campus. The Charles O. Zollar Building was transformed with the Student Activity Center," Board of Trustees Chairman Tom Jerdon noted at August's open house to show off the new court and seating, video scoreboards, new locker rooms, a training room and the second-floor McLoughlin Family Foundation Suite skybox. "Make no mistake, without quality housing and the SAC renovation, there's no way we could re-create athletics in this era."
An influx of more than 100 student athletes helped stabilize SMC's post-pandemic enrollment. SMC was one of the few Michigan community colleges posting increased headcount this fall.
For the short time the volleyball team has played together, their chemistry is evident, partly because four of the women, including Nate's daughter, Nikki, played together at Niles. Two, from Edwardsburg and Brandywine, played club volleyball together.
Nate hasn't hesitated to pit her freshmen against perennial powers stacked with sophomores.
"We're building a winning program," she said, "and a lot goes into that. You have to have player buy-in, and this team has bought in. When they look up and see the support they have, from faculty and staff, their families, other sports teams, that matters. It's a driving force."
A veteran coach of not just volleyball, but also basketball, baseball and softball, Nate is an educator first. Her day job is teaching English at Niles High School. A voracious reader, she devours books on tape even while driving. Her passion for reading and writing shine through talking about her favorite literary heroine, Elizabeth Bennet from Jane Austen's Pride and Prejudice.
"She is loyal, complex and stands up for herself and her beliefs," Nate said of the character. "Elizabeth goes after what she wants in life and follows her own vision despite the opinions of others."
The former Jenny Morris earned Southwestern Michigan Athletic Conference All-Conference in volleyball, basketball and softball.
"I understand what it takes," Nate said. "As an educator, I also understand it's academics first. They have to see me studying every day. My players have to know that I've never learned enough. I have to constantly model that."
"I'll take playing Muskegon, which is one of the best, every week so we can get better," she referred to the Jayhawks' Sept. 23 three-set sweep. "Look at our scores from exactly four weeks ago — 25-10, 25-12, 25-13 compared to 29-27, 25-20, 25-21."
Nate is an SMC alumna, earning a medical transcription degree and working in that field for a year. "I loved it, but realized it wasn't my passion. I did use it. I got a job immediately with a psychologist office in Mishawaka. I've always been passionate about writing and reading, and athletics, sports and training. I wasn't looking to come to SMC until I met Dr. Joe and his staff and saw their vision and passion. They were so welcoming and excited. I was very happy in Niles, which is my home. We had created a powerhouse program with buy-in from the players and their families."
Nate's Niles teams won three conference championships, two district championships and two regional championships, with two visits to the state quarterfinals.
She was named Class B Michigan Coach of the Year by Volleyball Insider in 2017 and was the Region 10 Coach of the Year in both 2012 and 2017. This past season, Nate's Vikings finished 48-9, and she won 2021 Wolverine Conference Coach of the Year.
In the offseason, Nate coached the 17 Teal Elite team for the Dunes Volleyball Club of LaPorte, Ind., Krush VBC and Southwest VBC, and served as a YMCA basketball coach, Niles Nitro travel softball coach and MHSAA volleyball referee.
One thing that appealed to her about "going up a notch" to lead SMC was to create an opportunity for area players, "some of the best in the state, yet so many don't always get to play college ball. I looked at it as a steppingstone to continue to help Niles players, and all players in the area, take that next step and get the experience I had. So much of who I am came from playing college sports. Time management. Teamwork. Every single thing we do transfers to life."