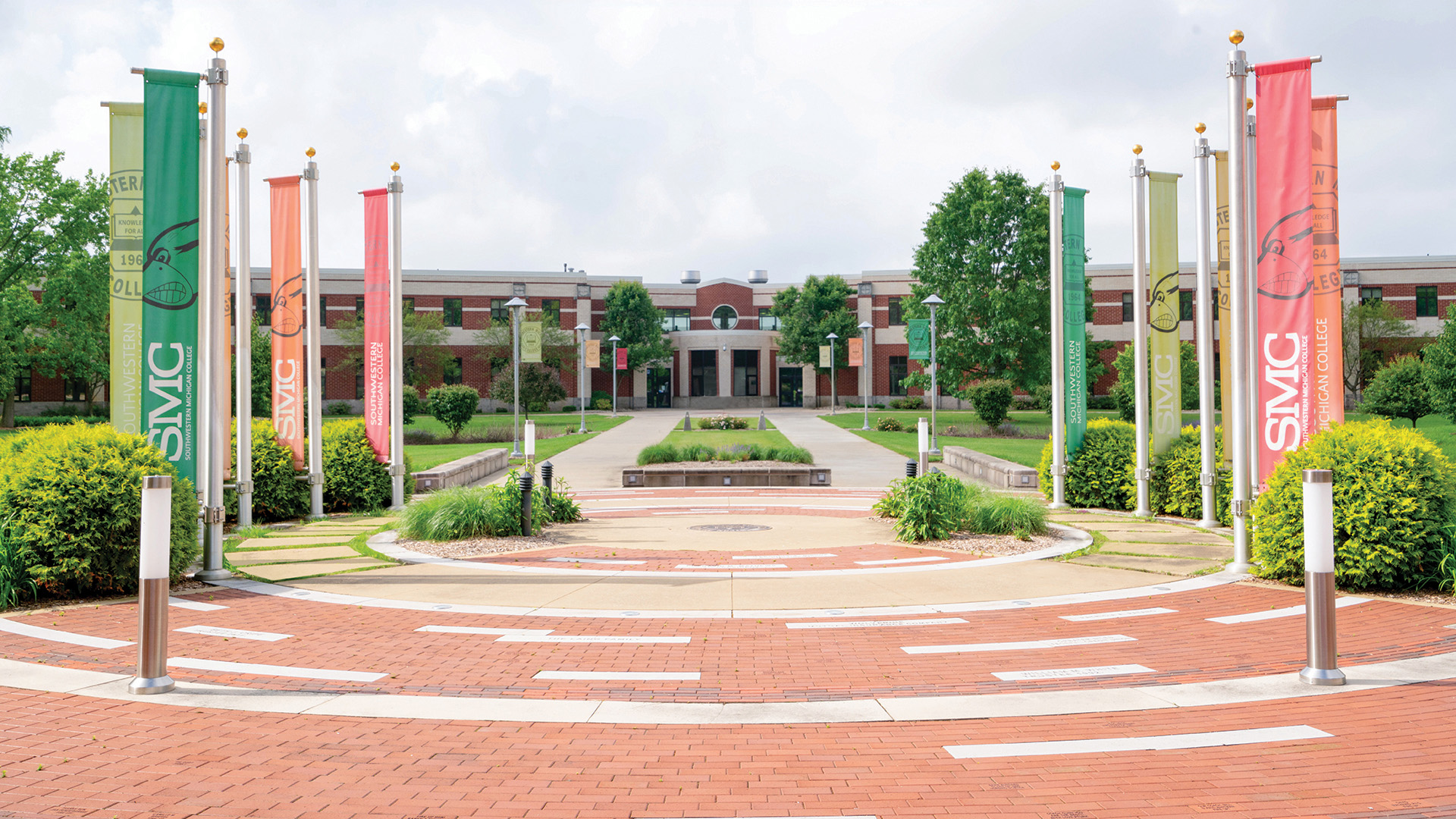 Three Contribute Lyrics to SMC Fight Song
Published on October 27, 2022 - 9 a.m.
Thomas Bentley of Mattawan is an Army veteran interested in creative writing. In his last semester at Southwestern Michigan College, he has been accepted to study at Columbia University in New York City next fall.
Logan Lampe of Lawton wants to be a composer. The first-semester music major was seen most recently playing clarinet in the Symphonic Band's fall concert Oct. 21 alongside his trombonist brother, Dominick.
Brooke Johnson of Dowagiac, originally from Schoolcraft, used her 2021 graphic and web design associate degree to help design the decals decorating SMC's Esports Arena in the Barbara Wood Building.
In 2017, she earned an associate degree in accounting, then continued to a bachelor's degree through Ferris State University's SMC program.
After working in the business office and for Leader Publications, she joined the records office almost a year ago.
These are the three collaborators who put words to the music of retired Director of Bands Jonathan "Doc" Korzun to create lyrics for SMC's new fight song heralding the return of intercollegiate athletics after a 25-year absence.
A campus-wide contest ensued during September, much like one in 1968 which made Roadrunners the college's mascot. The fight song debuts at the Nov. 1 basketball games, which also happens to be Johnson's birthday. She and Bentley hope to attend.
Lampe will definitely be there as a member of the new Pep Band also making its debut. He happened to be in the Collage Concert audience April 21 when Korzun, band director for 28 years, from 1991-2019, returned to direct the music's premiere.
As far as meeting the collaborators, they just met each other.
Each submitted lyrics, as did other students, staff and faculty. A committee of individuals representing several campus populations determined the three winners, selecting a dab from each entry, much like birds building nests.
"We all submitted fight-song lyrics and (the committee) decided they liked it combined," Johnson said. "It's really cool and works well. I can't wait to hear it. What makes it better is that we all contributed something in different ways, but when it comes together it's 10 times better than what we individually could have written."
"I like that it became a team thing because that's how things are done in real life. In real life, you rarely accomplish things by yourself. Teamwork is what this school is all about," Bentley said. "I'm glad they used this because it's something that's meant to last. Everybody's contribution fits beautifully, like puzzle pieces. It reads like we sat together and wrote it. I've been impressed with SMC throughout my time here, so to leave a little mark is awesome. I like that it was open to anybody involved in SMC, not just students, because we're all Roadrunners."
"It's interesting how we gave them ingredients that they put together to make this glorious fight song," Lampe said. "It's a fun song to play with Pep Band. I haven't heard it yet with the lyrics, but it's already stuck in my head."
"I thought about it for a while before I decided to try it because I'd never written songs or poems. I was on YouTube for hours, listening to different fight songs," Johnson said.
Lampe recorded the fight-song melody and listened to it over and over in a quiet place at the family farm until the thought gelled that SMC "is like a second home to most people that pushes you to another college or wherever you want to go because most people leave and come back. I know I will. You're always a Roadrunner, no matter where you go."
"My perspective was thinking of the Looney Tunes Roadrunner. That's the first thing that came into my head," Bentley said. "That was my arc, smiling through all obstacles. I started during the pandemic and things were tough, but we got through the adversity. As a sports fan, I've heard a lot of fight songs. To even be spice in the mix is an honor."
"We're a part of SMC lore now," Lampe laughed. "It's crazy to think about."
The green and yellow brave
Triumphantly we race
These emerald feathers shine with glory
S M C
New challengers may rise
But we will pass them by
Fight on, fight on to victory
For S M C!