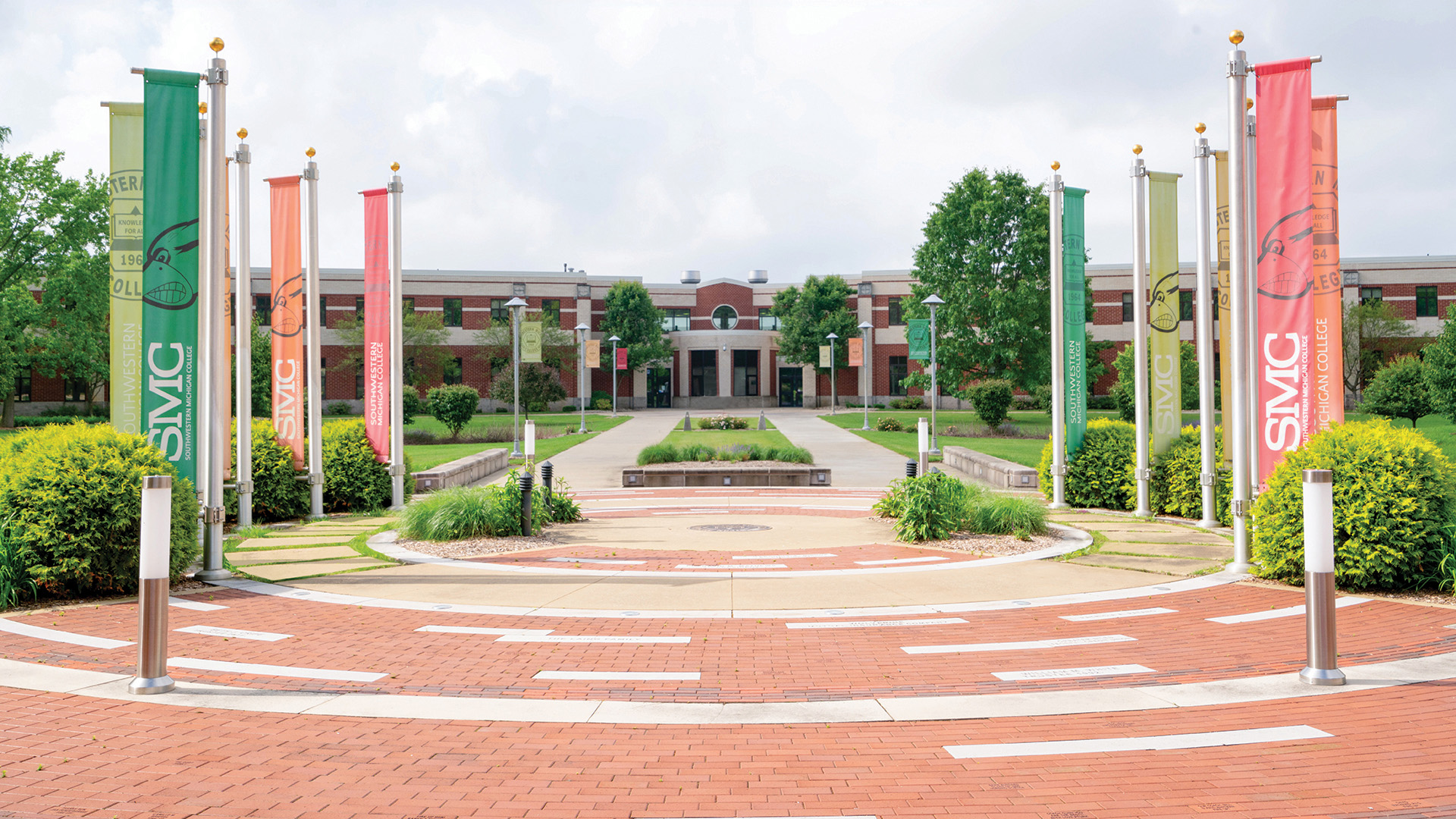 Trumpets Take Over SMC Spring Band Concert "Legend"
Published on March 13, 2023 - 11 a.m.
Trumpets took over "Legend," Southwestern Michigan College's spring band concert March 10. The concert originally scheduled Feb. 17, had been postponed by snow.
The concert featured about 30 participants of the 2023 SMC Trumpet Clinic Day which began Friday morning, plus the SMC Symphonic Band, SMC Jazz Ensemble and SMC Jazz Combo, under the baton of Director of Bands Mark Hollandsworth.
"They put in a lot of good work today," Hollandsworth said of the high school guests, "and I'm really pleased with their attitudes toward learning."
Before last month's weather interruption, trumpeters enrolled from Cassopolis, Bremen, Buchanan, Berrien Springs, Three Oaks River Valley, Elkhart Concord, Three Rivers, Bridgman, South Bend Career Academy, Watervliet, Dowagiac, South Bend Clay, Mishawaka Penn and Decatur.
Hollandsworth broke out his own C trumpet for an ensemble which included trumpet instructor Danny Lopez on piccolo trumpet, SMC alumnus Joshua Wagner, director of jazz bands at Northwestern Michigan College in Traverse City, and clinician David Koch on bass trumpet for the aptly-named "Vuelta del Fuego" (Ride of Fire).
The Legend theme highlighted works, composers and performers who achieved that status in wind band and jazz music with compositions that have stood the test of time.
The Symphonic Band opened with Ralph Vaughan Williams' 1923 "English Folk Song Suite," Percy Grainger's 1936 "Ye Banks and Braes O' Bonnie Doon," and Claude T. Smith's 1964 "Emperata Overture."
The Jazz Combo led off the second half with Duke Ellington's Take the A Train," from 1939, and Dave Brubeck's "Take 5," from 1959.
The Jazz Ensemble's "In the Mood," Glenn Miller's 1940 chart-topper, featured Seth Kalina on tenor saxophone, Glenn McFarland on alto sax and Alex Foster on trumpet.
Drummer Chris Collins anchored Louis Prima's 1937 swing classic "Sing, Sing, Sing." Prima played trumpet for the Benny Goodman Orchestra.
Ellington's "Satin Doll," from 1953, shone the spotlight on soloists Justin Nunez, piano; Coby Henslee and Alex Foster, trumpets; and Seth Kalina, tenor sax.
Dizzy Gillespie's "Manteca," from 1947, closed out the show with Seth Kalina, Glenn McFarland and trombonist Ryan Peterson soloing.