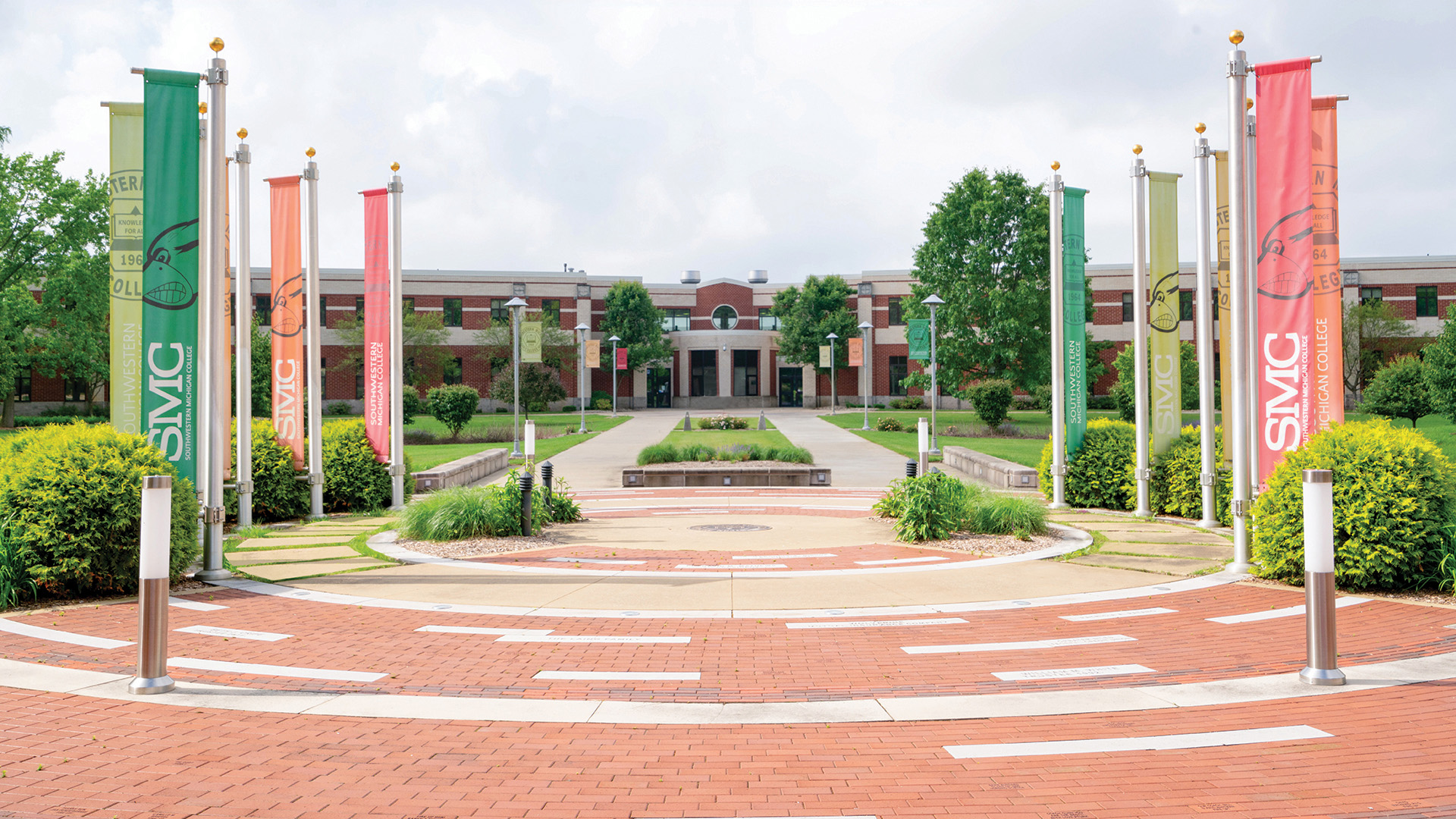 Virtual Commencement Celebrates SMC Graduates
Published on June 16, 2020 - 11:30 a.m.
"Resilience is in the DNA of Southwestern Michigan College," President
Dr. Joe Odenwald proclaimed June 13 during SMC's first virtual commencement ceremony in 53 years of graduations.
In his first commencement as eighth president, Odenwald said, "This is not how any of us imagined celebrating the hard work of our graduates, but it's out of the spirit of resilience that we celebrate you. Disrupted in mid-March, you pressed on with the help of Michigan's most dedicated faculty and staff."
"From our infancy, we've been counted out and underestimated," Odenwald said. "In 1963, a consultant told the late Dr. Fred Mathews that a Cass County community college just wasn't feasible, but here we are. In the 1970s, under the leadership of Coach Ron Gunn, cross country national championships put us on the map. In the early 2000s, our rates of student success distinguished us. Many times we have been among the very best two-year colleges in the nation. A decade ago we carved out a new identity with the addition of residence halls, which extended the opportunity for students from within and without the district to have the full college experience."
"Some people said this was crazy," Odenwald said. "Some of those very people were college presidents elsewhere in Michigan, but they ultimately did their best to mimic us. This bold move added to our alumni those east and north in Michigan, other states and even other nations. Some of today's graduates are graduates because of the presence of McKenzie, Jerdon and White halls on our campus."
"Graduates, I believe you will leave us with this spirit of resilience," Odenwald said. "At SMC, you've benefited not only from the knowledge and skills you've learned from our faculty, you have been inculcated with the idea you can achieve almost anything with unwavering hard work. Maybe completing your studies and graduating in this way is more a blessing than it is an inconvenience, for it demonstrates you can adapt and persevere, no matter the circumstances."
Student speaker Anaya Roschyk of Granger, daughter of two engineers, admitted the "proverbial head-strong teenager refused to follow in my parent's footsteps and study the sciences. Music was my everything. There was no way anyone could change my mind. When I was informed I needed to take a chemistry class to graduate, let's just say I was more than slightly irritated. I was terrified, fearful I would make a complete fool of myself and fail."
"However, when I shared my concerns with my mom," Roschyk said, "she didn't seem to understand the dire circumstances of my plight. I'll always remember what she said: 'Only those who never try truly fail.' After an excessive amount of begging, sobbing and screaming, I found myself on Jan. 8, 2018, at 8 a.m. in the Chemistry 100 classroom.
"As soon as Dr. Schauer began to show the entire class how there exists a microscopic universe invisible to the naked eye I. Was. Hooked. His dedication and passion for chemistry convinced me that I, too, could understand the inner workings of this mysterious universe, if I only got out of my own way. My life forever changed that Monday while listening to the mysteries of neutrons, protons and electrons. In that instant I realized there was a vast array of possibilities and opportunities of which I was not previously cognizant. I finally understood what my mom meant and I could marry my passion for music with my new interest in science.
"This celebration we're having today is a perfect example of the wonders that emerge through creative perseverance," Roschyk said. "It would be incredibly easy for us to wallow in all that we lost. It is not a path any of us wanted to set foot on. However, much like Chem 100, no amount of begging, shouting or screaming will make this inevitability disappear. Instead, we chose to use creativity, perseverance, patience, determination and sheer grit to find the beauty hidden inside this time of chaos.
"When conflicts arise, it is imperative we look to our history. Walt Disney, fired for lacking creativity. Vincent van Gogh selling one painting before his death to his brother. Albert Einstein told he was too stupid to amount to anything. When faced with great obstacles, they found the creative perseverance necessary to discover an alternate route to achieve success."
Vice President of Instruction Dr. David Fleming recognized 10 students graduating with perfect 4.0 grade-point averages, Caitlyn Renee Bogunia, Mackenzie Kyle Eagle, Joshua Allen Fuller, Valerie Noelle Hanley, William Kyle Kelly, Hannah Marie McIntyre, Anaya J. Roschyk, Jennifer Lynn Roupe, Gabriel John Sergio and Faith N. White.
Andrew Churchill represented Ferris State University, which conferred 35 bachelor's degrees in accountancy, business administration, computer information technology, criminal justice and human resource management.
Director of Choral Activities David Carew sang the national anthem and directed a Select Voices sextet for SMC's alma mater, "Here's To Thee, Our SMC," and the timely "No One is Alone" from Stephen Sondheim's Into the Woods.
Replacing "the gauntlet," the tunnel faculty form as graduates file out of the Charles O. Zollar Building gymnasium, were instructors in Zoom boxes offering encouraging messages.