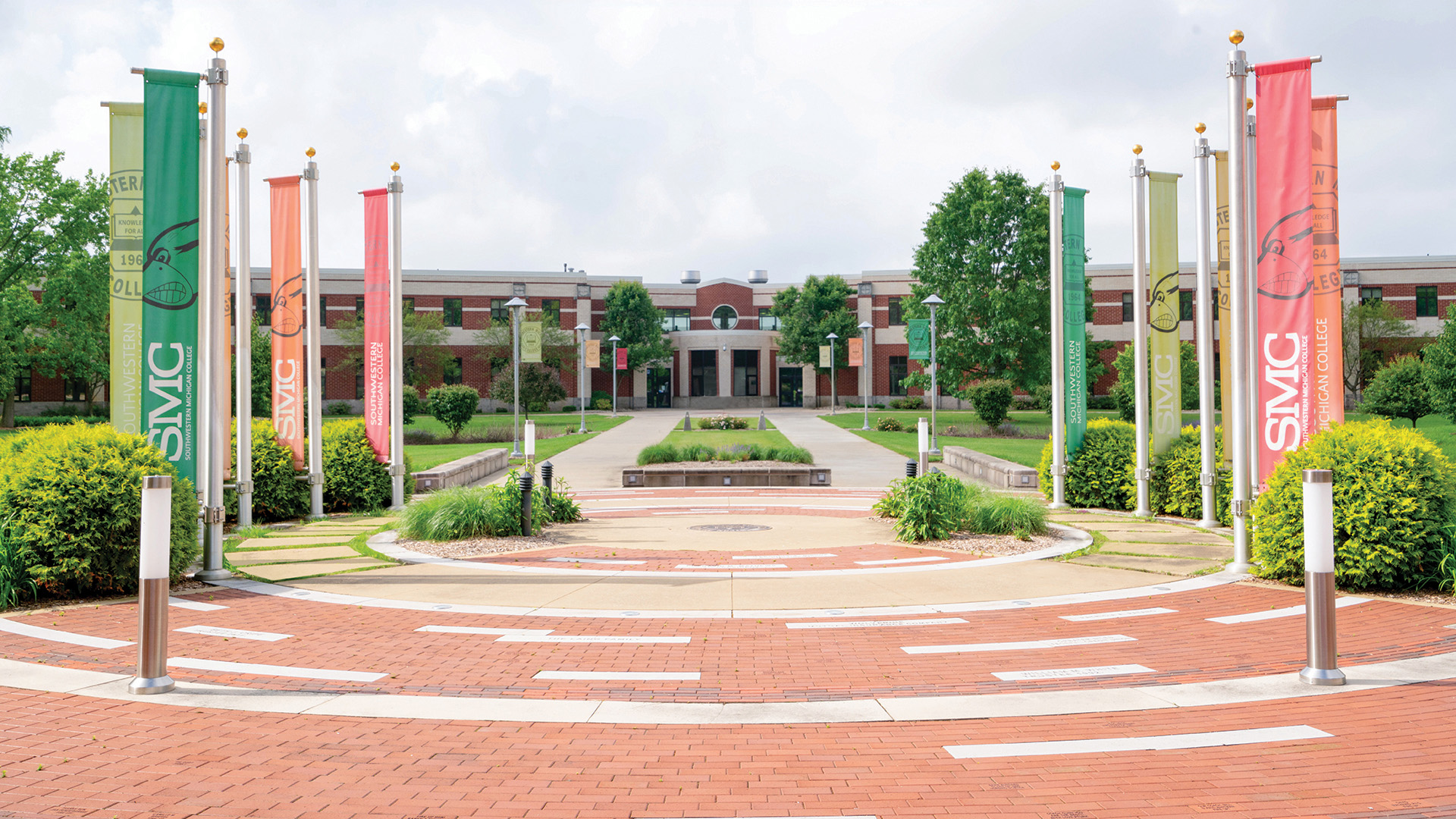 Winter Hikes SMC Accounting Manager's Favorite
Published on December 23, 2021 - 1 p.m.
Southwestern Michigan College Accounting Manager Christy Mangus always thought of hiking as a "summer, spring, fall thing. Then I realized it's year-round. I agreed to go on one winter hike, and now those are my favorite. If you dress appropriately, seeing the woods blanketed in pristine snow is so beautiful."
Mangus "had kind of an interesting childhood. I grew up in Constantine deer hunting, fishing and trapping muskrats with my dad, who coached football."
"No, we didn't eat" muskrats, she assured her audience at Fred L. Mathews Library's fifth Lightning Talk. "We skinned them, took the pelts and sold them at fur houses, which don't exist anymore, but were a thing when I was little," Mangus said. "We camped a lot in the summer. I feel most comfortable outside. I was never in the house as a kid. As soon as the sun was up, I was outside and didn't come in until I had to at the end of the day."
Her outdoor opportunities diminished during the years she devoted to raising her family, "and I'm not a camper anymore. It was fun, but I'm over that. I need a hot shower and a bed."
But when her last child left for college, and the empty nest loomed, "I needed to find some hobbies because I didn't know what I was going to do with myself. I couldn't just sit home and be sad that my kids are gone."
Friends told her about the Meetup app, a service used to organize online groups that host in-person and virtual events for people with similar interests.
"I wanted to join a hiking group to get back outside again," Mangus said. "I joined Michiana Outdoors Women Over 40 and hiked Potato Creek (State Park, North Liberty). I fell in love all over again with being outside. It was founded by Cheryl Wentzel," whose daughter in Colorado urged her to form the group. "Now she has over 100 women," though 12-15 participate in any given event.
"She had a rule partway through COVID that you had to wear a mask on all of the hikes," Mangus said, "because she lost her daughter at 40 last winter who encouraged her to start the group. We had people quit the group because they didn't want to hike in a mask."
"There are usually two hikes a week," Mangus said. "We do local hikes like Potato Creek, because a lot of us are from the South Bend area. She has since retired, so now they travel. I'm one of the younger women in the group, which does a lot of weekend trips. We go to county parks, state parks (Indiana has 26, Michigan 74). One of my favorites was in Portage." Bishop's Bog Preserve is a wetland with floating boardwalks. Water squishes up through holes in the planks.
"One thing I love about hiking is it doesn't really cost anything once you invest in a good pair of waterproof hiking boots." She added a pair of poles for navigating more elevated terrain.
"Anybody can hike with all kinds of health issues," she said. "One lady who has recovered from a stroke is in her 70s. Our rule is we never leave anybody behind. If somebody's slower — and we have a lot of nature photographers — someone hangs back so nobody's by themselves, and it's safe. There are six hikes on Meetup right now I could sign up for. I was going once a week, but now I'm taking night classes so it's probably more like once a month. Some women in my group are serious hikers who go out for weeks at a time with nothing but a backpack, a tarp and a sleeping bag. That's not me. I'm more of a day hiker who goes three miles on a weeknight or Saturday morning."
In September she traveled to northern Minnesota to drink in peak fall colors along the Superior Hiking Trail. "For four days we hiked eight to 10 miles a day. Some camped, some of us stayed in a lodge."
"My poles came in handy because it's mountainous," Mangus said. Hiking "is good for your core muscles because you're on uneven terrain a lot. It's good for your lungs, but more than physical things, it's seeing nature's beauty. It calms me, and is a good way to relieve stress."
Hiking has taken her group as far as the Mackinac Bridge Labor Day walk and Kentucky to as nearby as Dr. T.K. Lawless Park southeast of Vandalia and Dowagiac Woods Nature Sanctuary on Frost Street.