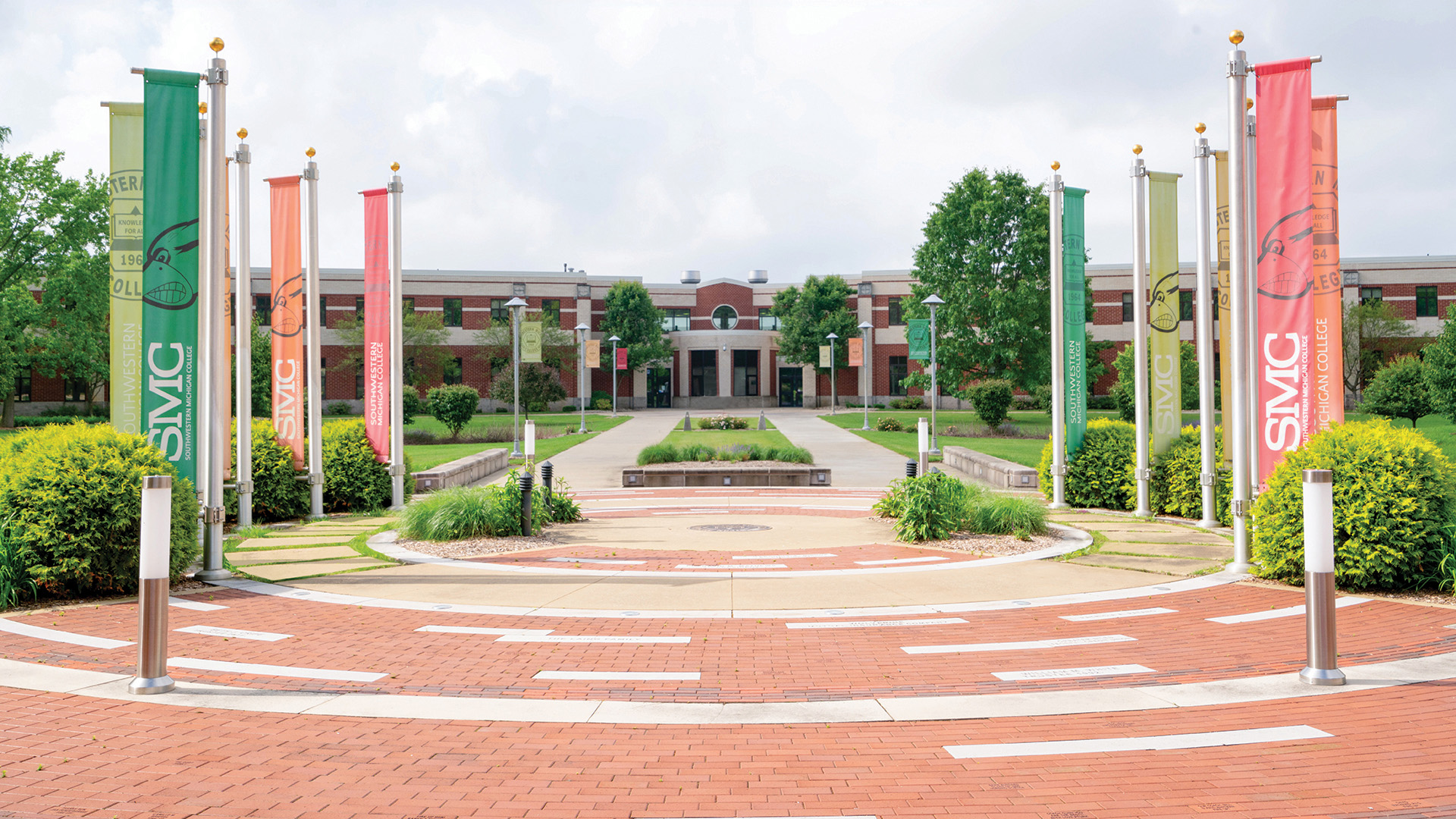 "You Gotta Love It" Still Sums Up SMC Wrestling
Published on July 20, 2023 - 10:00 A.M.
Southwestern Michigan College's wrestling team reappeared last fall after a 30-year absence. Like introverted Head Coach Todd Hesson, the team flew under the radar early in its inaugural season.
Hesson wrestled for SMC from 1983-85 under Hall of Fame Coach Jim Judd and qualified for the NJCAA National Wrestling Championship.
Under Hesson's direction, the SMC team has flourished, and their success is no longer a secret. The reborn Roadrunners finished third at the National Junior College Athletic Association (NJCAA) Great Lakes District Tournament.
"They wrestled well. It was a great weekend and an amazing season," Hesson said.
"Coach Judd always said, 'You gotta love it.' He was right, you do have to love it. The saying still applies today, and it's been a good way to link the past with the present program."
What a difference a year makes
"Last February we didn't have a wrestling room," said Hesson, whose appointment was effective Jan. 10, 2022. "I'm an introvert, so getting out and meeting people is not always my thing, but I do it quietly. Kids and coaches in high school have their jobs to do, and you don't want to interfere. It doesn't matter what school you could be from, if they have a college coach looking at them, all of a sudden they're not paying attention to what's going on in front of them and they go sideways."
Spoken like a man who served as Niles High School head wrestling coach from 2007-2021. At Niles, he earned Coach of the Year honors for the All-Southwest Michigan Team three times, the South Bend Tribune's Coach of the Year award three times, WSJM's Men's Coach of the Year, Regional Coach of the Year four times, and State of Michigan Division II Coach of the Year.
Hesson's teams won Academic All-State accolades for 12 consecutive years, and he coached the Vikings to eight district championships, five regional championships, a "Final Eight," and four "Final Four" finishes.
In January 2023, SMC earned its first Michigan Community College Athletic Association (MCCAA) championship in school history, a dominating performance against five established programs. Earlier this spring, the team also finished third at the Great Lakes District Championships and nine wrestlers qualified for the NJCAA National Championships.
In addition, Hesson won MCCAA Wrestling Coach of the Year. "They must have run out of people," he laughed, adding, "but I'm not giving it back. Even in high school, I never enjoyed success until afterwards because it was always, 'What's next? Who's banged up? Who's got a cold? Who's overweight? What's the weather like?'"
Wrestling room co-exists with performing arts
Hesson's wrestling room was created from former cubicle office space in the Dale A. Lyons Building across the hall from the theatre.
Hesson chuckles at the visual image of his "cavemen" roaming the fine arts' domain, persistently reminding wrestlers to "be aware of your surroundings when you leave here banged up and grouchy. You're walking out into a whole new world of singing and theatre. It's a neat dynamic that's worked out well," he said.
Something to build toward
SMC discontinued wrestling in the summer of 1992. Judd, a Dowagiac city councilman for four years, had coached the Roadrunners since 1968 and was inducted into the NJCAA Wrestling Hall of Fame in 1990.
His 1972-73 team received an NJCAA award for the most academic All-Americans. His 1990 squad ranked 20th in the nation in the final poll, with the 15 athletes including four academic All-Americans.
"Coach Judd was such a good mentor, a good man," Hesson said. "There are so many moving parts. I look back at Coach Judd and don't know how he did it.
"I have a hard time turning anybody away who wants to wrestle to get an education. It doesn't have to be wrestling. It could be basketball, bass fishing, or esports. Whatever draws you in as a vehicle to improve. Sports are temporary, so get your education, whether welding or nursing, because it pays off in the long run. Especially now, coming out of COVID. Sports give you structure, a routine, work ethic, and punctuality.
"These kids stayed the course," Hesson praised. "We had a very simple plan: Work hard, follow directions, and take care of your classes. They really get along well and know each other from competing" in high school.
"We talk as a team about representing your old school, SMC, the wrestling team, your family, and yourself. If you're trying to figure things out because you want to wrestle, but you don't know what else you want to do, (SMC) might be a good option because you can figure it out at a lot less cost. I try to be open to whatever's best for them."
Tweaking the second season
"Right at the top of the list of what needs to be tweaked" for the second season, "I'd like two to three (home meets).
"It's been a whirlwind. When the season finally ends, I want to sit back and reflect. It's been a process of figuring some things out—and sometimes the process is two steps forward and one step back. Just keep inching forward.
"Like everyone except the (second-year) cross country team, we had a team full of freshmen," Hesson said. "They wrestle hard. When they come off the mat, I don't question that they gave us 100 percent. If you lose, tip your hat and move along. I just want to see a steady progression. They're in on the ground floor of rebooting a program.
"There's going to be a point in their lives down the line where they're going to take a lot of pride in that team picture and showing it to their sons: 'Look, the old man could wrestle. He was on SMC's first rebooted team.' There's a lot of historical pride that goes with wrestling here," like Spencer Towns wearing his decades-old team jacket to the college's 50th anniversary in 2014.
"Most of you in this room are going to coach at some point, whether it's little kids, middle school, or high school," Hesson remembers telling his squad. "Lord knows, if I can do it, anyone can. I didn't think as an introvert I had the personality to ever be a head coach."
The team test-drove that concept Feb. 7 by volunteering to support a Michigan Youth Wrestling Association (MYWAY) tournament, from table help to officiating.
"My first state champion is helping me now," Hesson said.
That would be Kenyon Ellison who in 2008 became Niles' first wrestler in 40 years to win a state championship at the Palace of Auburn Hills, and only the fifth in school history. The Vikings' heavyweight was first to achieve 50 wins. The SMC wrestlers are also assisted by Shane Perkey and Daniel Sierra.
My strength is my weaknesses
"My strength is that I know I have weaknesses," Hesson said. "You figure out how to get better at them and surround yourself with people who are better at them to fill the gaps."
Summing up the season, "We saw teams from Minnesota, Wisconsin, Illinois, West Virginia, and Indiana. We saw a lot of schools, and there's a big difference between a junior and a freshman. Even freshmen and sophomores in four-year programs have been raised up" by wrestling-room interactions with upperclassmen.
"We had to figure it out on the fly. We had to grab shovels and start digging in the same direction. The second year we can tweak the dimensions of the hole we dug," Hesson said.
"We keep it simple. There's a lot to be said for hard work, structured routine, and staying consistent.