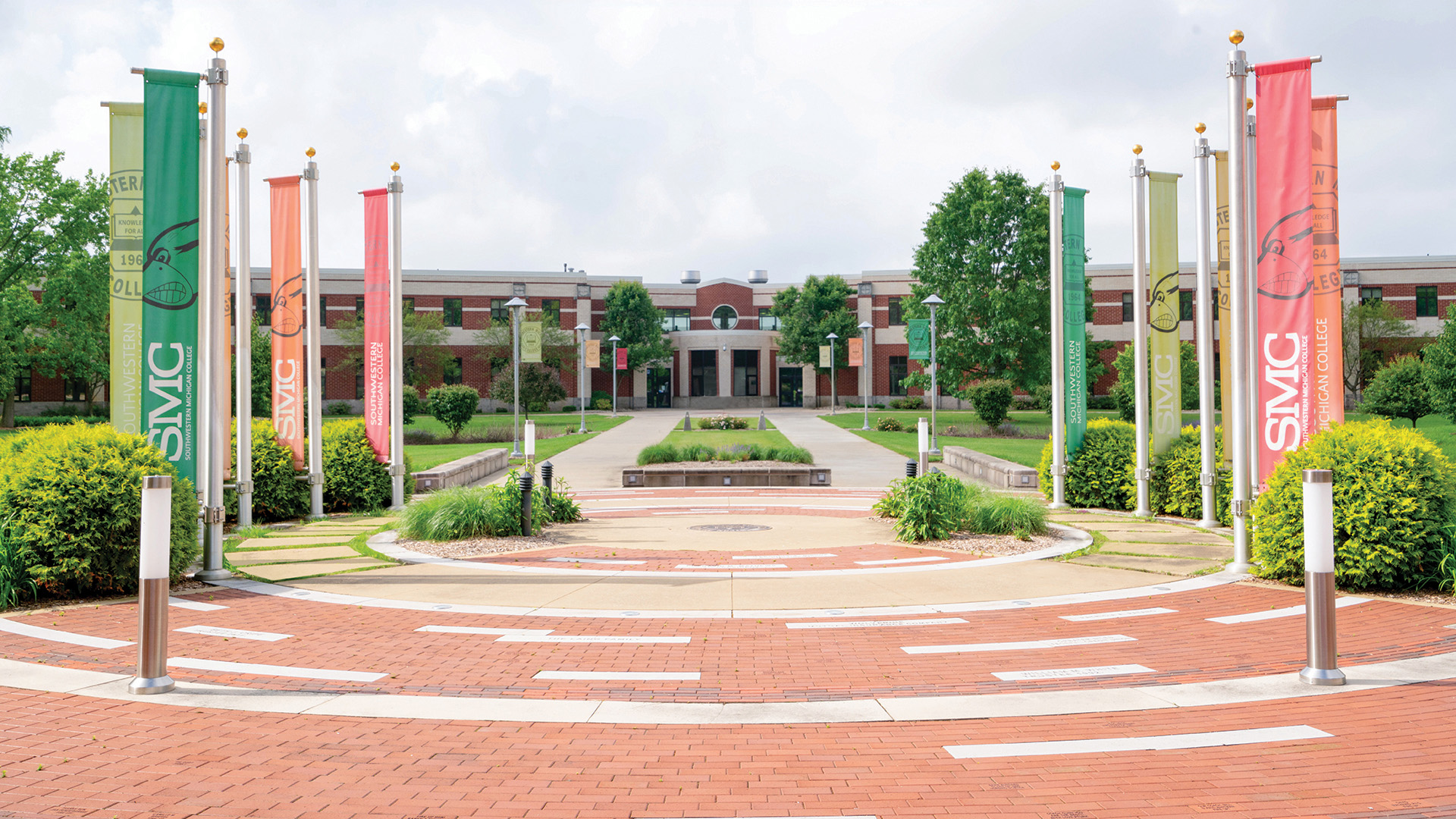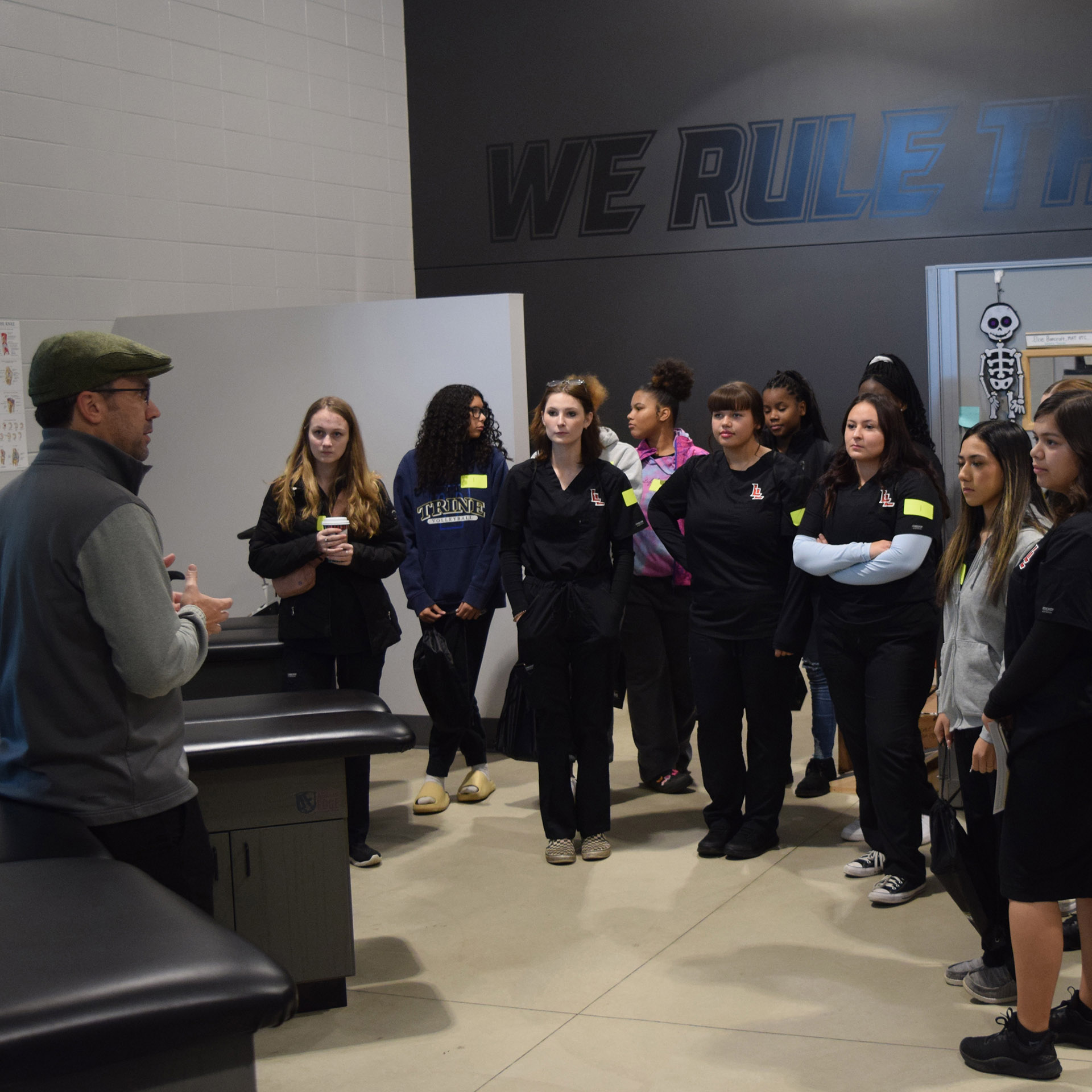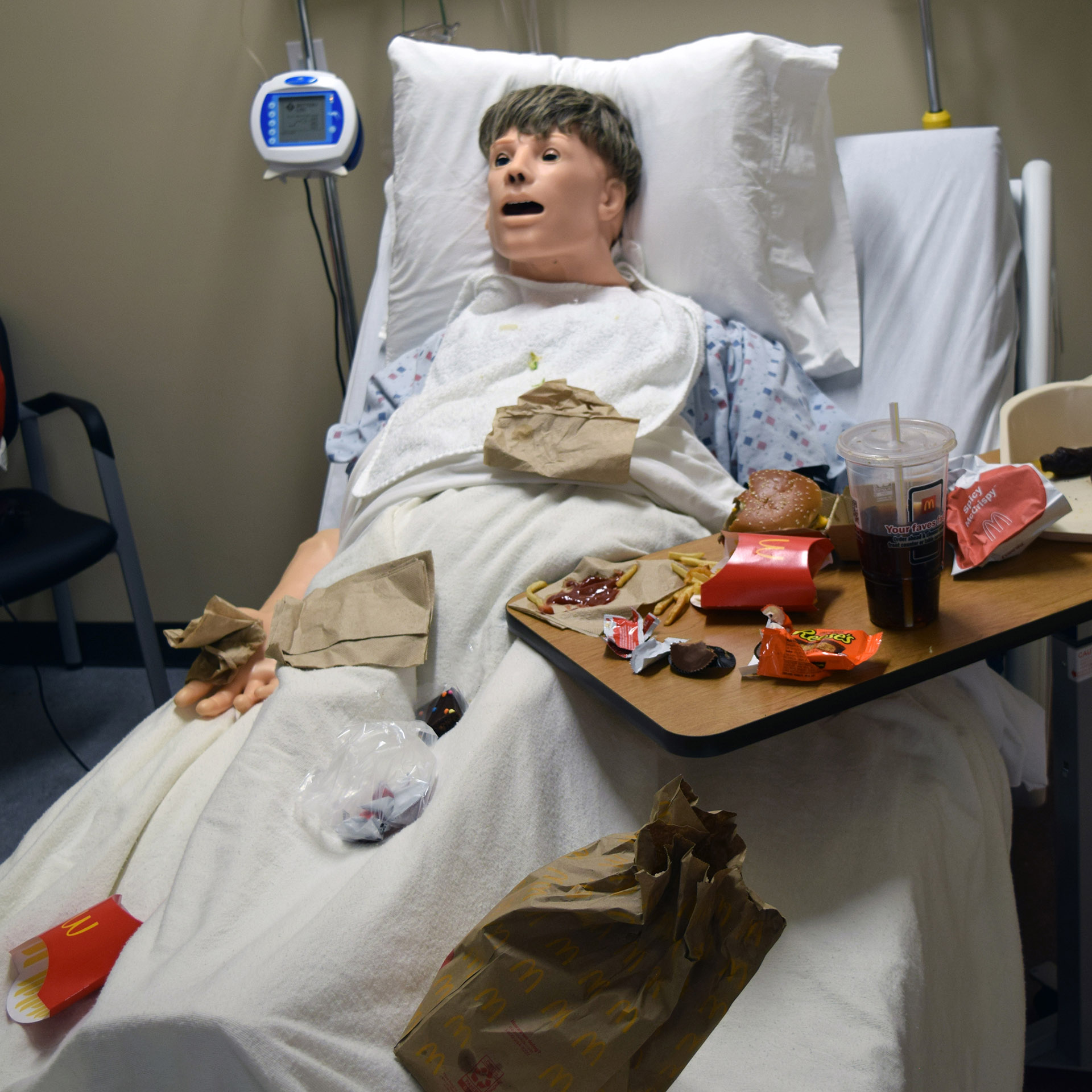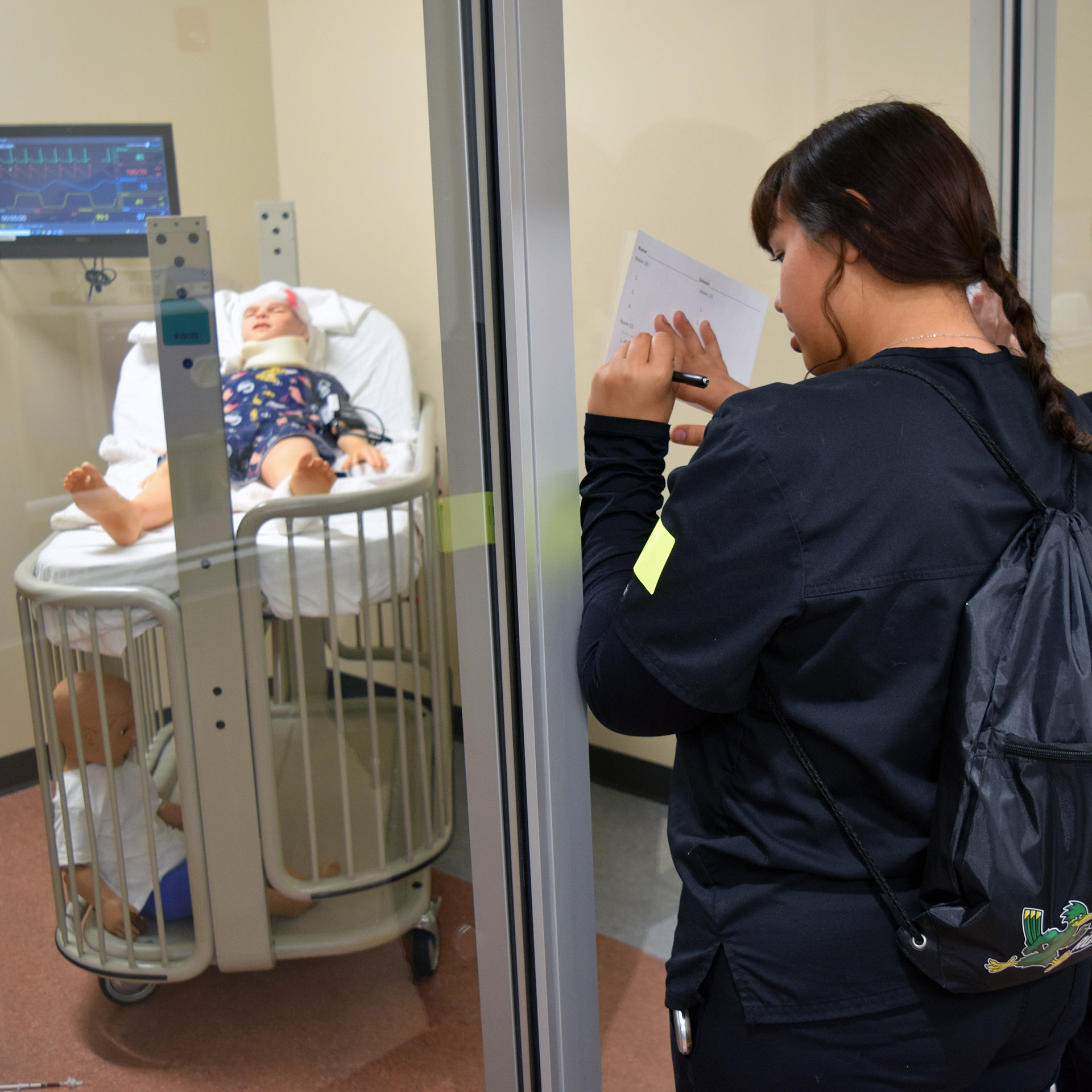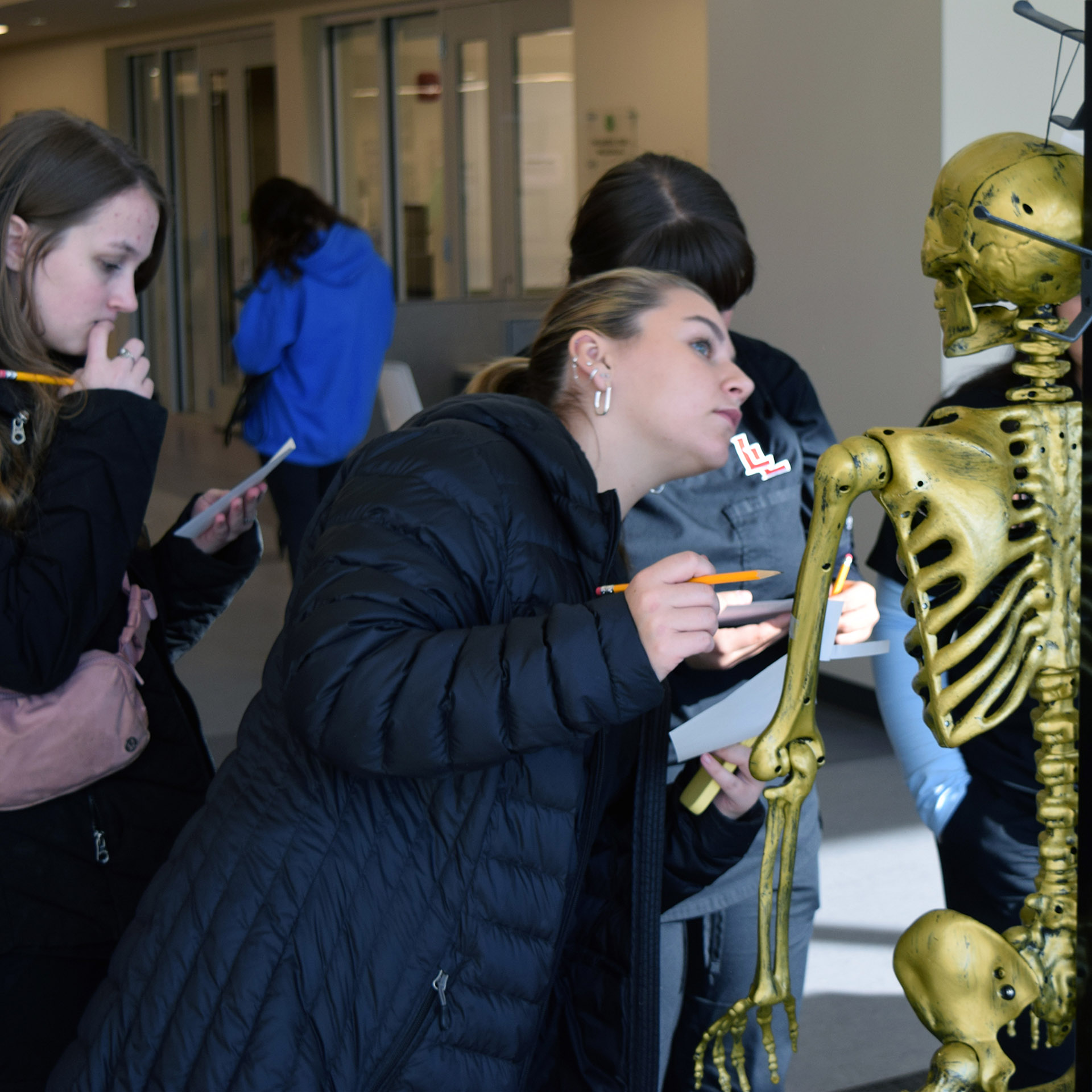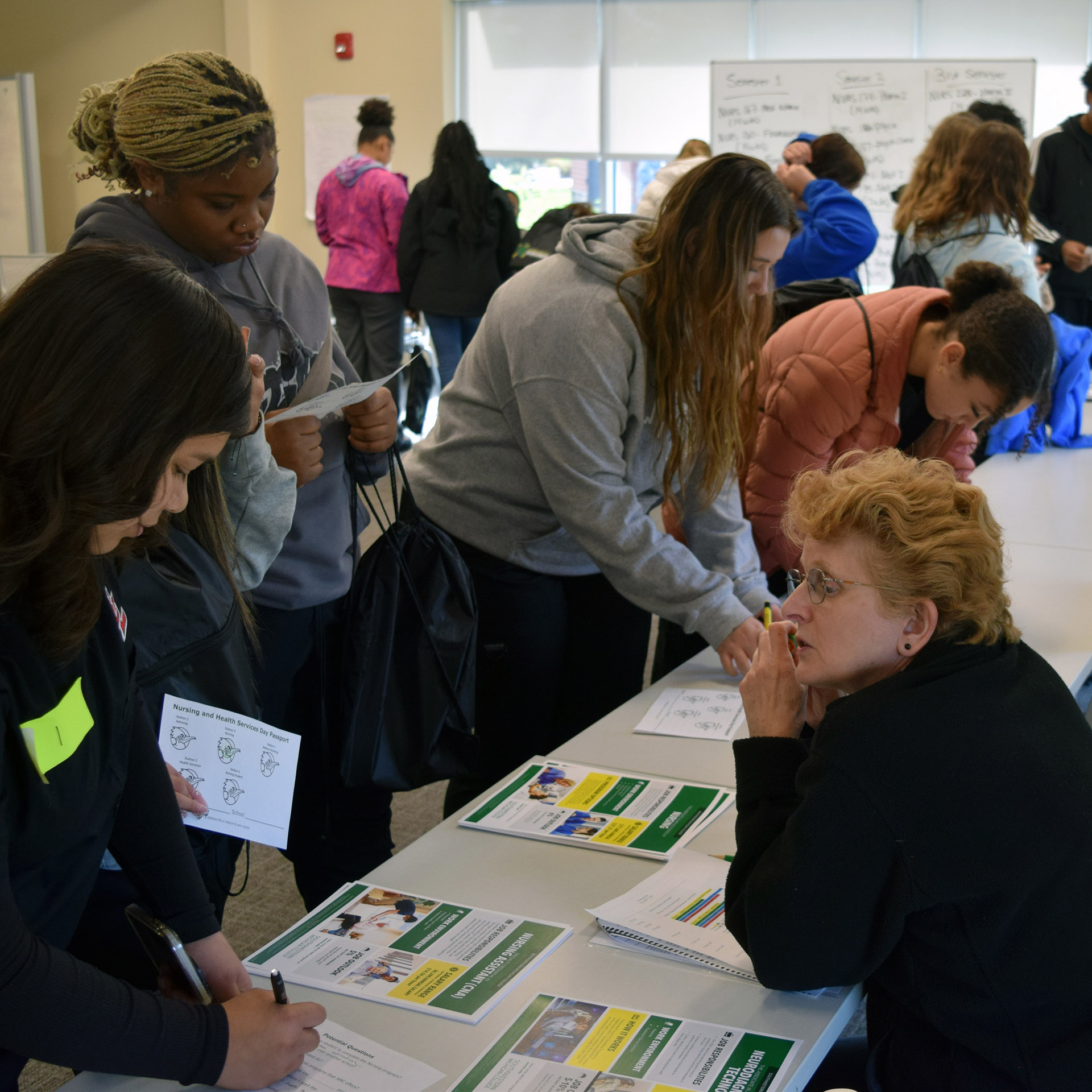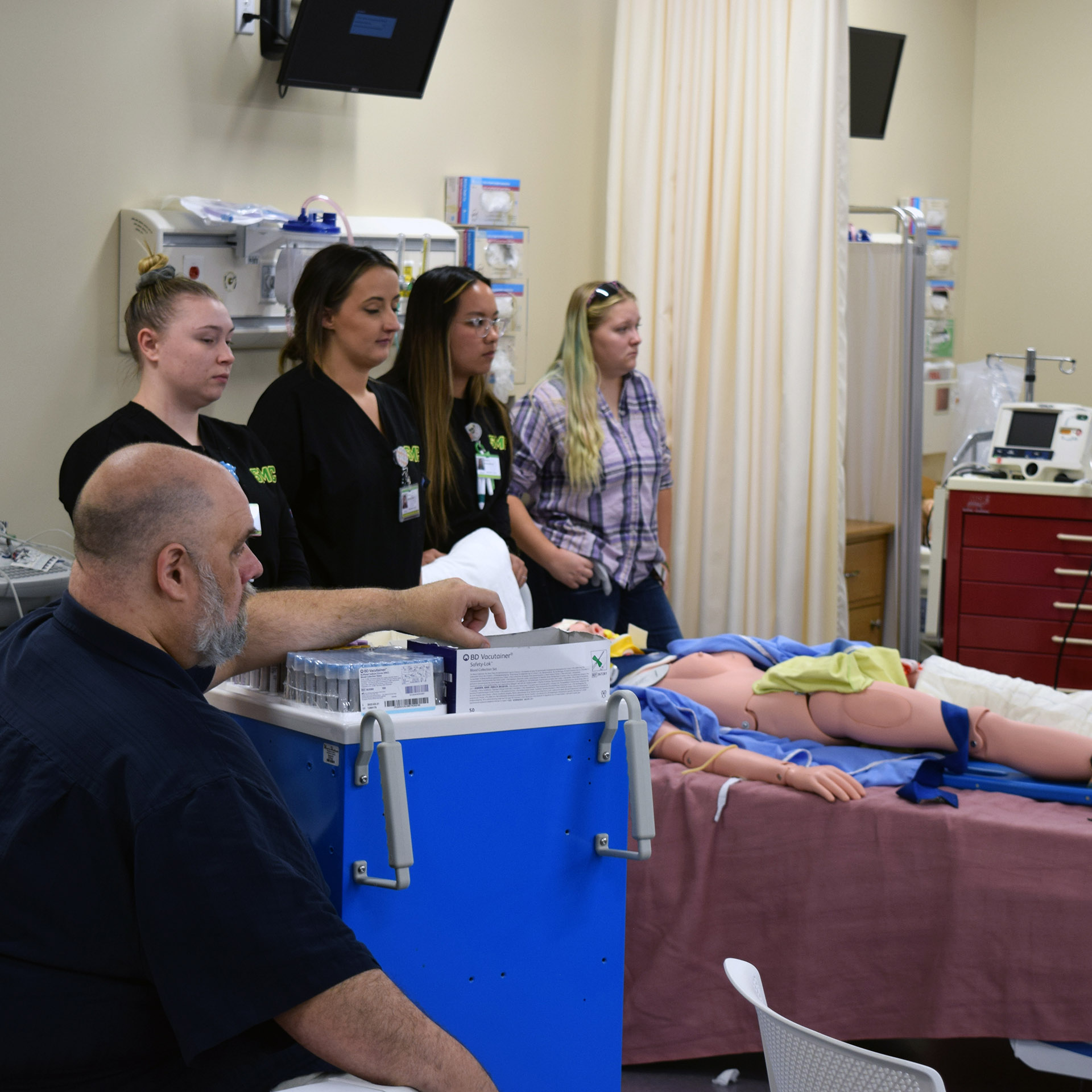 112 High School Students Attend SMC Nursing Day
Published on November 7, 2023 - 11 a.m.
Southwestern Michigan College Nursing Day turned the normally pristine simulation lab into a crime scene Nov. 3.
Intentionally making a mess around the robotic manikins was meant for instructional purposes — an engaging "I Spy" activity for 112 high schoolers from Dowagiac, Lakeshore, Cassopolis, Lawton, Berrien Springs, Eau Claire, Bridgman and Career Academy South Bend cataloging five things which went awry in each of four rooms.
In Room 20 of the $9.6-million Nursing and Health Education Building renovated in 2019, there were two dirty diapers, a baby bottle full of Pepsi, the wailing baby was unsecured, the baby warmer alarm wailed and dirty laundry was visible.
In Room 21, a baby wore a dirty diaper, another baby was naked, a little boy was under the bed, there was vomit on a gown and a dirty needle by the bed.
Trash overflowed in Room 23, with a full bed pan next to food, a full urinal, an IV machine sounding, the remains of a McDonald's meal and candy wrappers.
A patient hid behind a table in Room 24, where there were blood products left out, a mop bucket with the patient, the air-supply hose left on and a dirty sink.
Participants experienced medical assisting, nursing and emergency medicine in dialogue with professionals and SMC students.
There was also a five-station "passport activity" acclimating prospective nursing students to SMC's process in discussion with advisors, faculty and staff.
Nursing student Britney Peet, 26, has been a firefighter, an Emergency Medical Technician, an emergency room technician and works for a funeral home. She was the EMT resource person at SMC's Public Safety Camp in August 2022.
"I had my EMT license for four years before I went to nursing school," Peet said. "Having that base launched me into a very good first semester. Nurses are lifelong learners."
"No matter what branch of medical services we're in, we all work together to provide the best patient care," said Steve Torres, who teaches the SMC EMT certificate program. He was joined by Eric Smith, instructor for the phlebotomy certificate program.
"I've known a lot of doctors over the years who worked their way through medical school as phlebotomists, EMTs or ER techs so they have jobs while they're in school," Torres said. "The nice thing about all the programs here is whether you stick with them permanently or not, they give life skills to use in emergency situations.
"It doesn't matter what license you have in health care right now, we have a nationwide shortage of providers, period. My EMT students, I can guarantee them that within 30 days of getting out of my class, they will get hired fulltime in this area. That's how many job openings we have. A lot of nurses are promised jobs before they're out of school."
Students expressed interest in pursuing a variety of nursing specialties, including obstetrics, neonatal, ER, radiology, pediatrics, oncology and travel nursing.
Cross Country Coach Zac Sartori, who spoke in the Student Activity Center theatre about the athletic training program, showed visitors around the Sports Medicine Center.
The Sports Medicine Center was created in July 2022 as part of a multi-million-dollar renovation of the Charles O. Zollar Building. It is staffed by a fulltime licensed trainer, Elise Bancroft, who helps student-athletes rehabilitate while providing education and guidance on best practices for staying healthy.
Renovations for SMC's return to intercollegiate athletics after a 25-year absence included a complete overhaul of the gym floor and seating to create the 1st Source Bank Fieldhouse, new team locker rooms, officials' rooms and a second-floor suite housing coaches' offices and a "skybox" viewing area overlooking the court, as well as the sports medicine facility.
Sartori, whose wife, Kate, is a physical therapist, said, "My athletes encounter overuse injuries — sprains, tendonitis, stress fractures. Basketball, volleyball and football players are more likely to have ACL and MCL tears.
"Athletic trainers provide immediate, first-responder care. Physical therapists rehab patients after the fact. The athletic trainer assesses the situation, determines how bad an injury is and whether they need to be rushed to the hospital."
"This field is about keeping people moving without pain," said Sartori, who holds a bachelor's degree in kinesiology and a master's degree in sport and exercise psychology, both from Northern Illinois University.