Letter from the Chairman of the Board of Trustees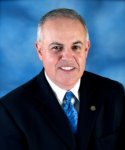 As chairman of the board of trustees, I'd like to welcome you to our pages and thank you for your support of Southwestern Michigan College.
SMC operates under the supervision of a locally elected board of trustees who serve six-year terms without compensation. The seven board members represent a broad range of backgrounds and geographic locations within the college's service area. They ensure the college's mission of providing affordable, local access to high-quality postsecondary education. More information about each of the board members can be found here.
This section of the web site has been established to keep the public informed about college business and upcoming board meetings so that you can see the work of your elected officials and how your tax dollars are being put to good use. I invite you to check these pages frequently for ongoing updates.
Thank you again for your interest in Southwestern Michigan College and for your help making southwest Michigan a better place to live and work.
Tom Jerdon
Chairman, Southwestern Michigan College Board of Trustees