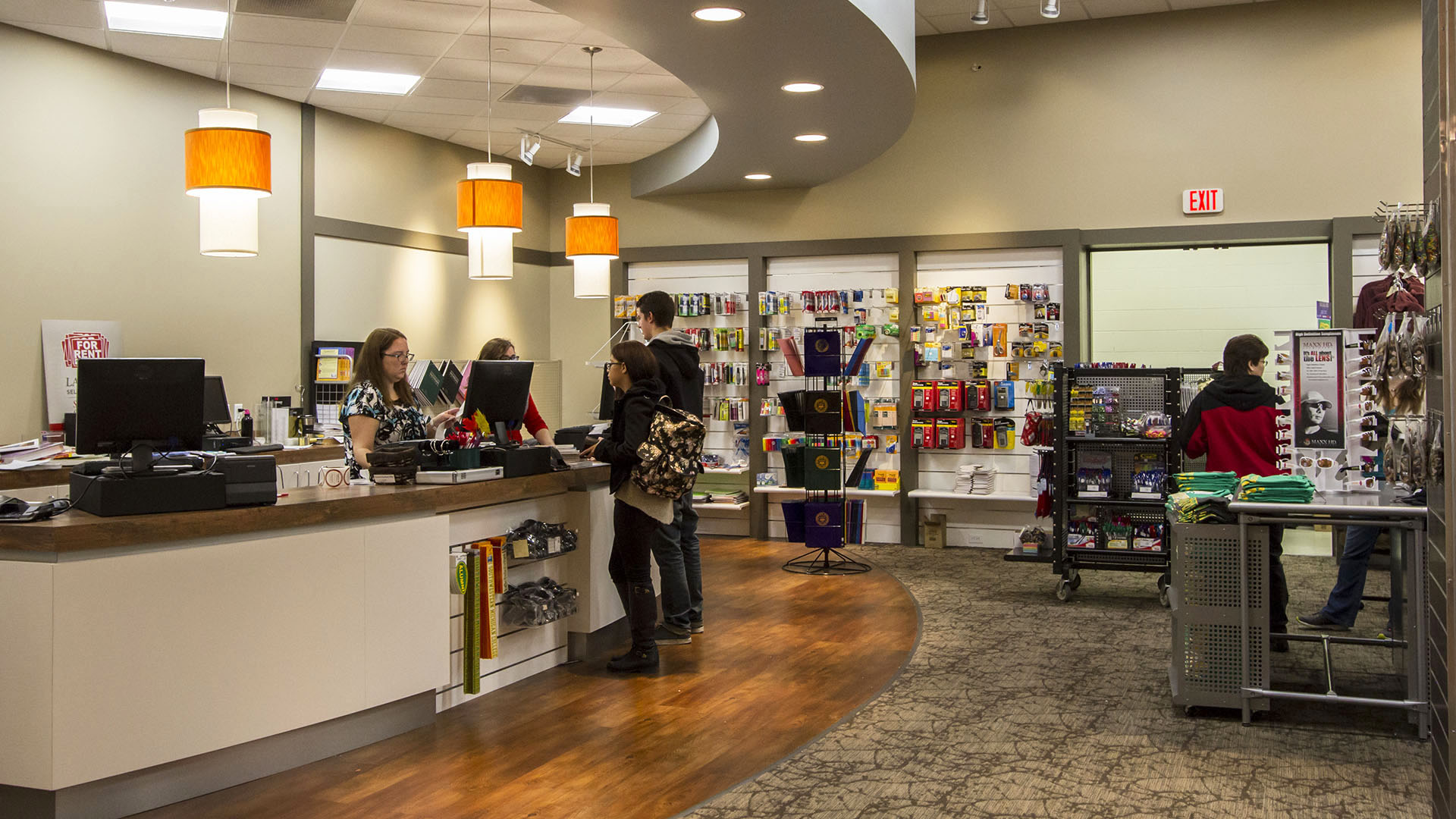 Everything You Need Is at the Bookstore
The SMC Bookstore has all the books, course materials, and supplies you need for class as well as the SMC fan gear you need to show your school pride. From t-shirts and other apparel, gifts and accessories, to housing essentials, snacks, computers, and printers, the official SMC campus store has it all!
Shopping Options
In Store

Visit the bookstore on SMC's Dowagiac campus to get your textbooks and course supplies and to browse our selection of apparel and accessories.

Your student ID will be required to pull your list of materials and purchase/rent them from the bookstore. A computer and printer is available at the bookstore to view and print your list of materials, but to save time, print it out ahead of time by visiting the Get My List website, or bring your smartphone to view your list of materials on your phone.

Online

Visit shopsouthwestern.com to easily shop the bookstore's full inventory of textbooks, apparel, and supplies. All you need is your student ID!

When ordering online, you can have books shipped to your home for a flat rate of $7.50 or you can have them shipped to the SMC Bookstore or the Niles Campus for free. Visit the bookstore FAQs page for assistance placing your order.

Note: Books shipped to Niles will arrive first at the Dowagiac campus and then be sent to Niles. You will receive a notification when your books have arrived at the Dowagiac campus, but they still need to be sent to Niles. Either call the Niles campus and ask if your books are there before you go or wait to pick them up until you get a phone call from someone at Niles letting you know your books are there.

Student Discover

Student Discover is a web app that allows students to view and purchase all their books and course materials in one portal immediately after registering for classes. To access Student Discover, click the Bookstore link under My Courses in SMC Wired, then click the Follett Discover box in the right column.
Textbook Options
The bookstore offers a number of options for purchasing both hard-copy and digital textbooks, so you can find the option that suits you.
Financial Aid Bookstore Policy
As established by SMC's Office of Financial Aid, a limit of $1000 of financial aid can be used at the bookstore during each semester book-voucher period.
Financial aid should only be used to buy required books, supplies, and technology needed for the classes you are enrolled in for each semester. No food, beverage, or other consumables may be purchased using financial aid.
There are limitations to the amount of non-course-related materials that may be purchased using financial aid.
Financial aid may be used to purchase one laptop or tablet once every three years. The maximum amount of financial aid that may be spent on a laptop is $650; the maximum amount that may be spent on a tablet is $400. In order for financial aid to pay for software, it must be a course requirement.
Financial aid may only be used for headphones that are required for a course, and the cost may not exceed $50.
Financial aid may only be used by the financial aid recipient, and a student ID and/or other photo ID is required.
Frequently Asked Questions
You've got questions, we've got answers. Browse the FAQs here for answers to common questions. Still have questions? Feel free to send us an email or give us a call.