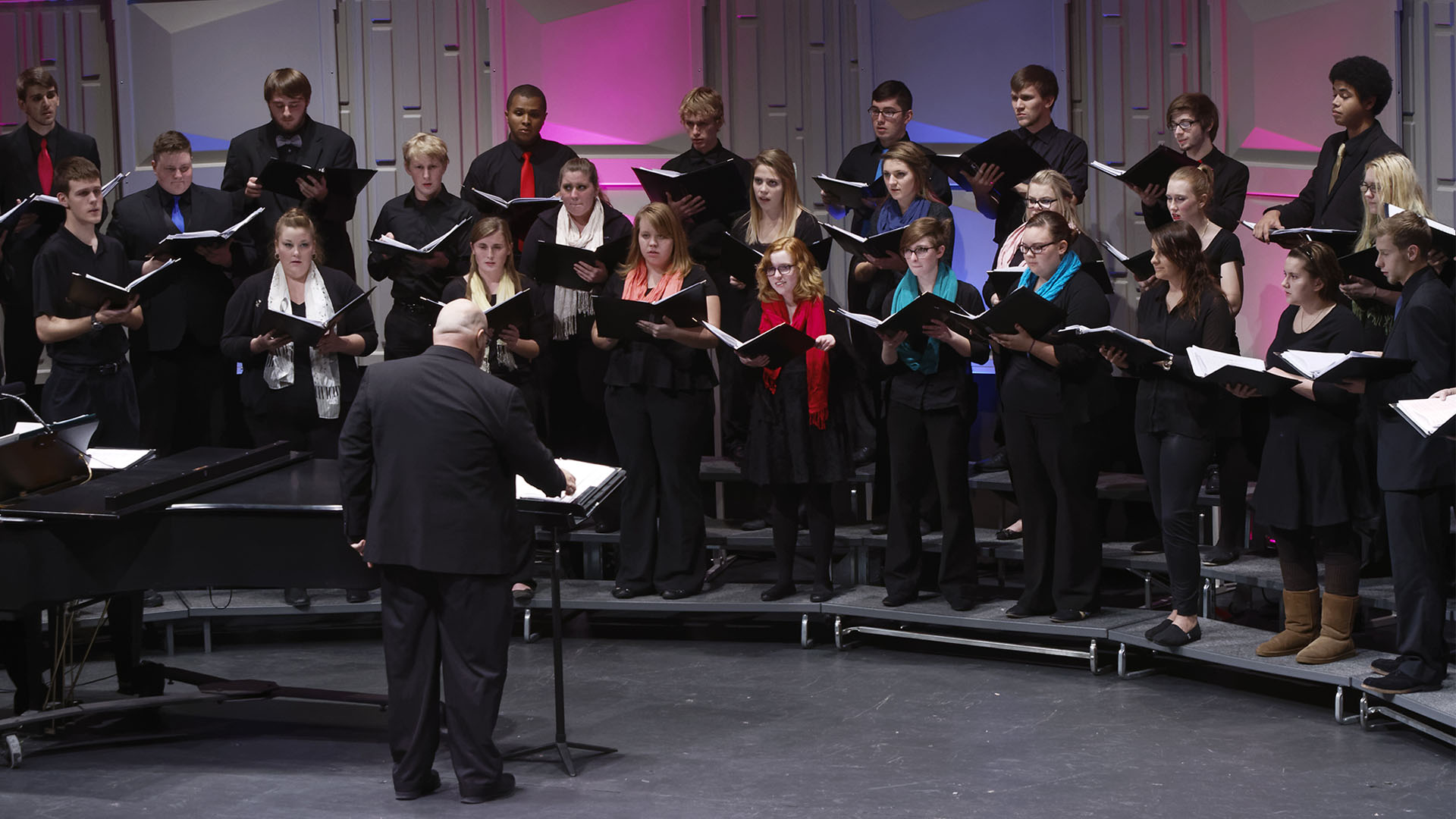 Visual and Performing Arts Events
2022-2023 Performances
With the exception of the spring musical, all performances are free, though donations to benefit visual and performing arts student groups are appreciated. Ticket information for the spring musical will be released as the performance draws near. Performances take place in the theatre in the Dale A. Lyons Building on SMC's Dowagiac Campus.
Fall Band Concert—"Home"
October 21 | 7:30 p.m.
The SMC Symphonic Band, Jazz Ensemble, and Jazz Combo bring the audience "home" with nostalgic selections. From Dvorak to Giroux and Basie to Ellington, the evening will be capped with an interactive performance including the SMC Alma Mater and Concert Choir.
Fall Choir Concert—"In Remembrance: Songs of Reflection and Nostalgia"
October 28 | 7:30 p.m.
The SMC Concert Choir, Select Voices, Men's Ensemble, and Chorllennium present an evening of music dedicated to times, places, and people that impact the human experience. The concert culminates with a performance of the Fauré Requiem in collaboration with the St. Joseph High School Choirs and Chamber Orchestra and Lake Michigan College Choirs.
Fall Cabaret—"Becoming: A Musical Theatre Song Cycle"
November 12 | 7:30 p.m.
This 90-minute cabaret explores the dynamic process of transformation through songs from golden-age musicals and contemporary musical blockbusters. The cast embarks on a storytelling journey illustrating the inevitable human experience of change.
Faculty Recital—"Danny Lopez & Friends"
November 17 | 6 p.m.
Danny Lopez, SMC's instructor of applied trumpet and adjunct music faculty, performs works by Haydn, Goedicke, Levy, Ewald, and more. Lopez holds a master of music degree in trumpet performance from The University of Arkansas and performs with local professional groups. He is joined by some of his friends, including Christine Seitz (piano), Mark Hollandsworth (trumpet), Emily Mikel-Rowe (clarinet), Elisabeth Waldburger (clarinet), and Gary Kurtis (tuba).
Holiday Band and Choir Concert
December 10 | 7:30 p.m.
The SMC Jazz Ensemble, Symphonic Band, Concert Choir, Select Voices, and Men's Ensemble share a special holiday performance. Guests, soloists, small ensembles, and surprises fill out our program. Enjoy some of your favorite holiday selections and ring in the season as the SMC Bands and Choirs present their annual gift to the community.
Faculty Recital—"Collage of Colors"
January 26 | 6 p.m.
Come meet SMC's newest adjunct faculty member and applied flute instructor, Dr. Anna DeCou, in concert. She will be joined by friends and family from West Michigan and beyond. The program will feature compositions and arrangements from vibrant South America, the deep woods of Eastern Europe, and the pastel rivers of North America!
Winter Band Concert—"Legend" RESCHEDULED
Due to weather-related issues and the closing of campus, the band concert that was scheduled for February 17 has been postponed. The new date for the SMC Winter Band Concert, "Legend," will be...
March 10 | 7:30 p.m.
The SMC Symphonic Band, Jazz Ensemble, and Jazz Combo present some of the most legendary and historically significant works of the genre. Gustav Holst, Leonard Bernstein, and Percy Grainger are representative of the composers of classic wind band literature featured this evening. Guest high school trumpeters present a capstone performance as the culmination of the 2023 SMC Trumpet Clinic Day.
Winter Choir Concert—"Music of the Spheres"
February 24 | 7:30 p.m.
Presenting a program of multi-cultural music and songs celebrating the natural world.
Spring Musical—"The 25th Annual Putnam County Spelling Bee"
March 23-25 | 7:30 p.m.
March 26 | 2 p.m.
Winner of the Tony and the Drama Desk Awards for Best Book, The 25th Annual Putnam County Spelling Bee has charmed audiences across the country with its fresh and vibrant score. An eclectic group of six spelling champions will offer a hilarious and unforgettable experience, complete with audience participation.
Spring Collage—College Band and Choir Concert
April 20 | 7:30 p.m.
The ensembles of the SMC Band and Choir combine for an entertaining and fast paced evening of music! Student soloists and small groups will be highlighted, with programming to feature a wide variety of genres and settings for all ages.
Support Student Visual and Performing Art Groups
Want to help students grow in their love for the arts? Make a donation to support student visual and performing arts groups and enhance students' opportunities to participate in the arts!