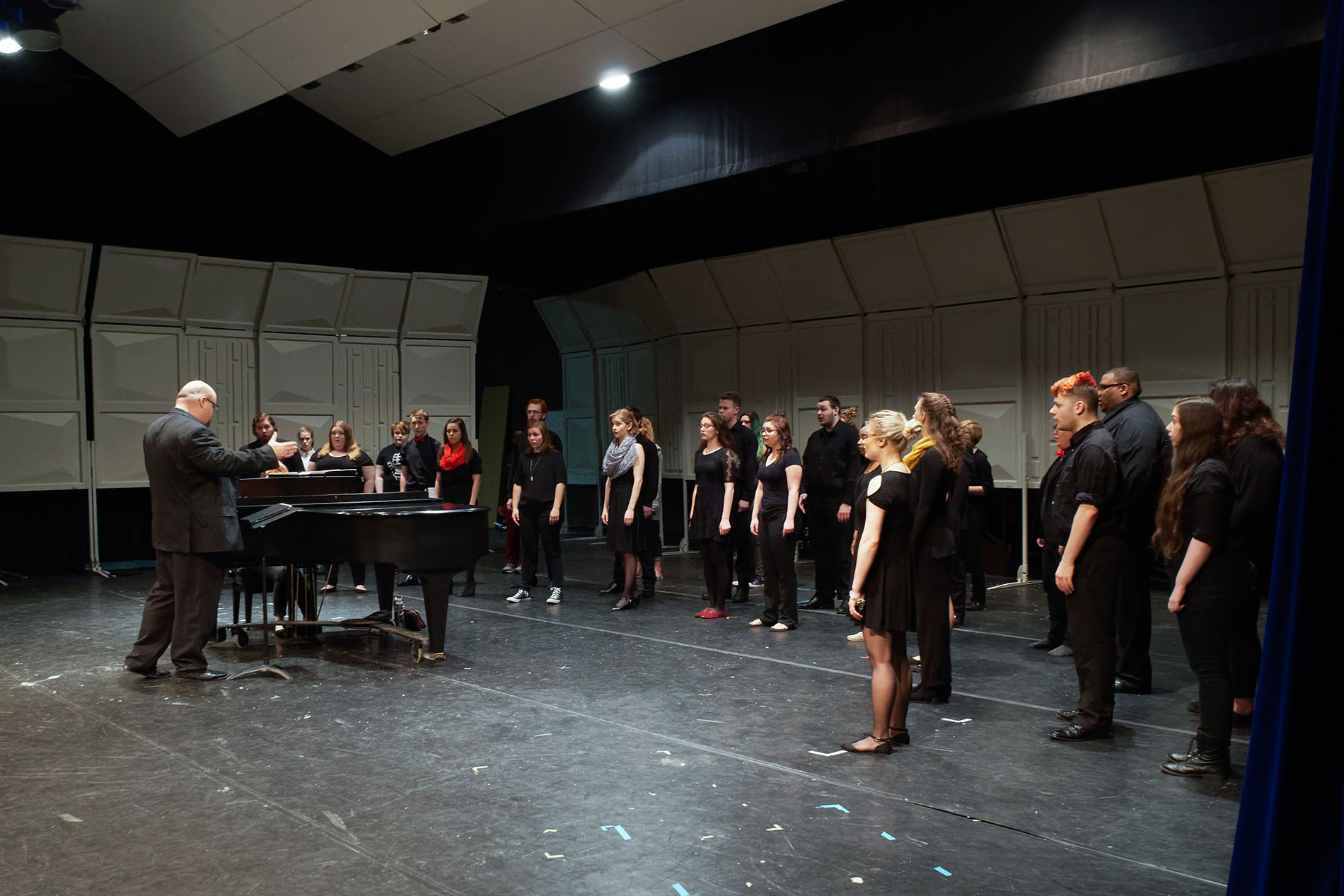 Music
Develop your skills as a musician through expert personalized instruction and a myriad of performance opportunities.
SMC is the school of choice both for students wishing to major in music as well as students of other majors who want to maintain music as part of their college experience. We offer collegiate-level musical training and performance opportunities through a wide variety of choral and instrumental ensembles, as well as a complete music curriculum.
About the Music Degree

The Associate of Arts in Music degree is a four-semester course of study that parallels the first two years of a Bachelor of Music degree at colleges and universities nationwide. It is designed to build a strong foundation in music theory, history, and aural skills and to engender efficient practice habits that will lead to success at the next level. All students complete a minimum of four semesters of private instruction, studying with some of the finest musicians in the area. You will also complete the general education courses required by most universities.

During your time at SMC, you will have opportunities to perform in a variety of instrumental and/or vocal ensembles, showcase your individual talent at our monthly student recitals, and play a part in our bi-annual theatrical productions.

You'll graduate with a broad musical repertoire, a strong foundation in musical theories and techniques, and the confidence to tackle advanced collegiate coursework.

The music faculty at SMC are committed to meeting you where you are and to crafting individual pathways that are geared toward your success. As a music student, you'll have access to professional musicians who will guide and mentor you as you transition to the four-year program that best fits your talents and skill set. This is especially important in music programs, as transferability of credits can vary significantly among four-year colleges and universities.

SMC music majors have regularly proven successful at four-year institutions throughout the Midwest, finding themselves well-prepared to earn their bachelor's degree.

A number of sources of financial aid are available, including talent scholarships.

What You'll Learn
What Can I Do With a Music Degree?

This degree will prepare you for advanced musical studies in pursuit of a career in music education, performance, or other related fields.

Careers and Salaries

| Career Option | Salary |
| --- | --- |
| Musicians and Singers: | $30.49 per hour |
| Music Directors and Composers: | $49,130 |
| Broadcast and Sound Engineering Technicians: | $48,790 |
| Postsecondary Teachers: | $79,640 |
| High School Teachers: | $61,820 |

2021 median pay. Source: Bureau of Labor Statistics
Music for Enrichment
Not sure if you want to major in music? Band and choir ensembles are open to all students with prior music experience, regardless of major.
Performing arts are an integral part of student life at SMC. Over the years, SMC has established a long-standing commitment to excellence in our performing ensembles. We offer several opportunities accessible to all levels of experience and talent.
As a member of our performing ensembles, you will collaborate with other arts-minded students from all disciplines across campus and will have opportunities
year-round to let your individual and collective talents shine. Ensembles include Symphonic Band, Jazz Ensemble, Concert Choir, Men's Ensemble, and Select Voices.
One of the unique aspects of our program is found in our enrichment offerings, which are designed specifically, but not exclusively to allow non-music majors to participate in courses outside of their degree program. These are zero credit, inexpensive options at only $40 per course. Please contact the Director of Bands or the Director of Choral Activities for more information.
Watch More
Learn more about visual and performing arts programs at SMC!