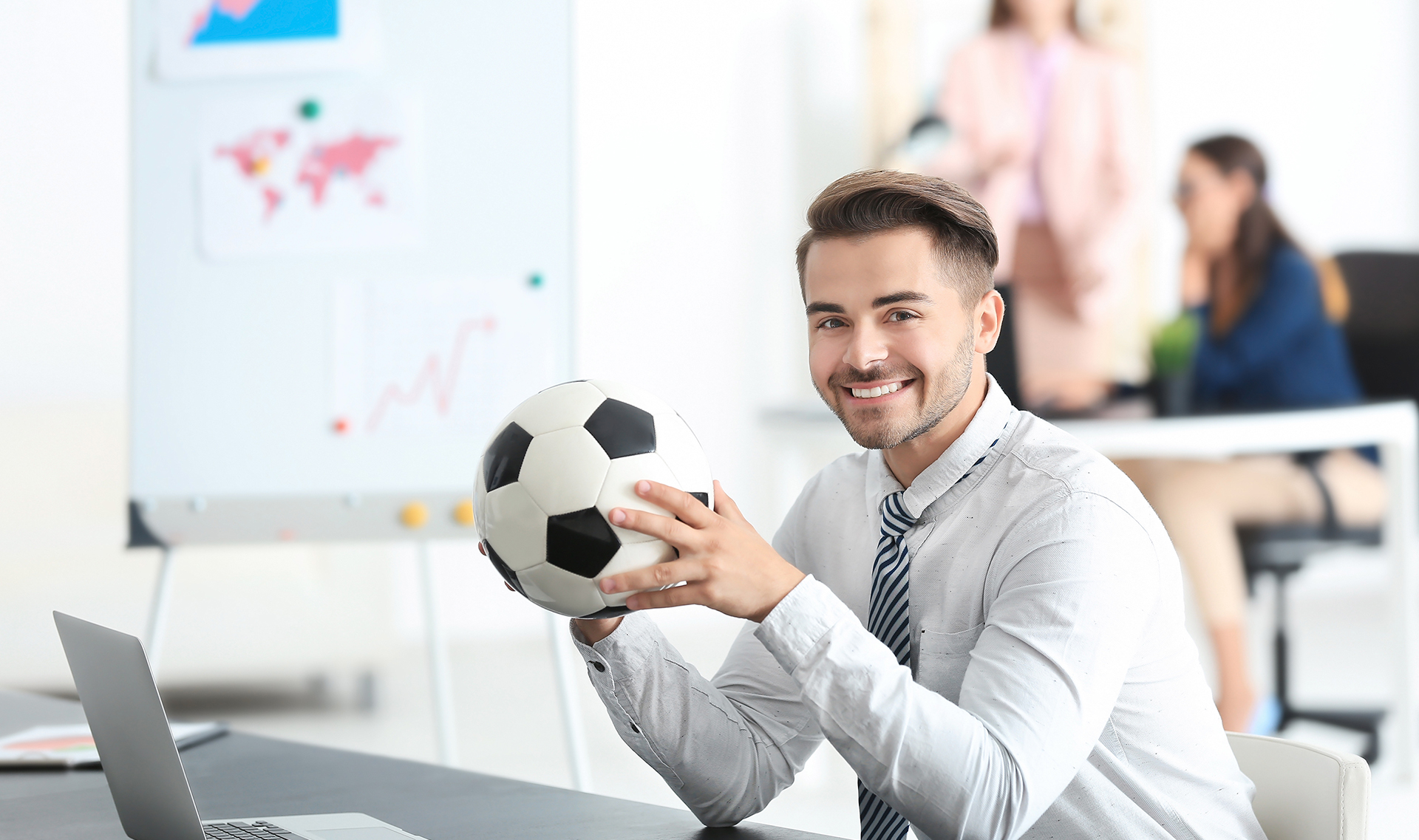 Sports Management
Get an affordable start to a career in sports or recreation with the sports management degree from SMC.
Do you have a competitive drive that you're ready to carry into a fulfilling career? SMC's sports management degree will challenge and focus that ambition with the knowledge, confidence, and critical skills necessary for success in the sports and recreation industry.
About the Sports Management Degree

Recreational programs and athletic facilities have needs unique from other businesses such as controlled access to high-profile clientele, the demand for diverse customer engagement opportunities and maintaining an aura of fame through the management of public perception on a daily basis.

Sports Management is a business degree specialized for managing sports- and recreation-related operations. A degree in sports management will show employers that you have the know-how to run a business as well as a thorough understanding of the unique needs of the sport and recreation industry.

Whether you want to help manage a team, run a recreational facility, or go into sports marketing or journalism, SMC offers a strong, skills-based curriculum paired with top-notch, on-campus recreation facilities where you can get involved and apply your classroom knowledge.

As a sports management student, you'll start by gaining business management fundamentals while also exploring personal fitness and learning how to develop healthy lifestyles. Next you'll learn how to effectively market an organization and gain an introduction to coaching, including budgeting and scheduling teams. You'll explore sports management fundamentals, organizational theories and the economic, social, and psychological impacts of recreation. You'll also develop skills essential for career advancement such as networking and professionalism. Finally, you'll apply your skills with a practicum with a real sports or recreation industry employer.

The Associate in Applied Science in Sports Management is designed to transfer into sports management programs at four-year institutions to complete a bachelor's degree.

What You'll Learn
What Can I Do With a Sport Management Degree?

Graduates are equipped to gain entry-level employment in facility and event management, sports and recreational programming, athletic coaching, sports media, and more. Students are strongly encouraged to pursue a bachelor's degree to increase career opportunities.

Sports management is a dynamic but highly competitive field. Career options for those with advanced sports management degrees include:

Managing professional and collegiate sports teams
Sales, marketing, and public relations for sports teams or agencies
Player coaching, scouting and representation
Stadium operations
Sports merchandising
Travel and event planning
Sports and recreation programming
Sports journalism
Field maintenance, prep, and conversion
Ticket sales
Fundraising

Careers and Salaries

| Career Option | Salary |
| --- | --- |
| Advertising Sales Agent: | $58,450 |
| Administrative Services and Facilities Managers: | $101,870 |
| Reporters, Correspondents, and Broadcast News Analysts: | $55,960 |
| Meeting, Convention and Event Planners: | $52,560 |
| Fundraiser: | $61,190 |

2022 median pay. Source: Bureau of Labor Statistics
Clubs and Honor Societies
Business Club
The Business Club is open to students of any major. The Business Club allows students to engage with each other and professionals in various industries. The Business Club also hosts various events on campus and typically participates in a field trip each semester to various businesses/industries so that students can see first-hand the experience of what it is like to work in that business/industry.
Alpha Beta Gamma
Business and accounting students have the opportunity to join SMC's chapter of Alpha Beta Gamma, the international business honor society.
Bachelor's Degree Option
Earn a bachelor's degree in business administration on our Dowagiac campus through our partnership with Ferris State University. SMC business programs are designed to transfer into Ferris programs, saving you time and money.