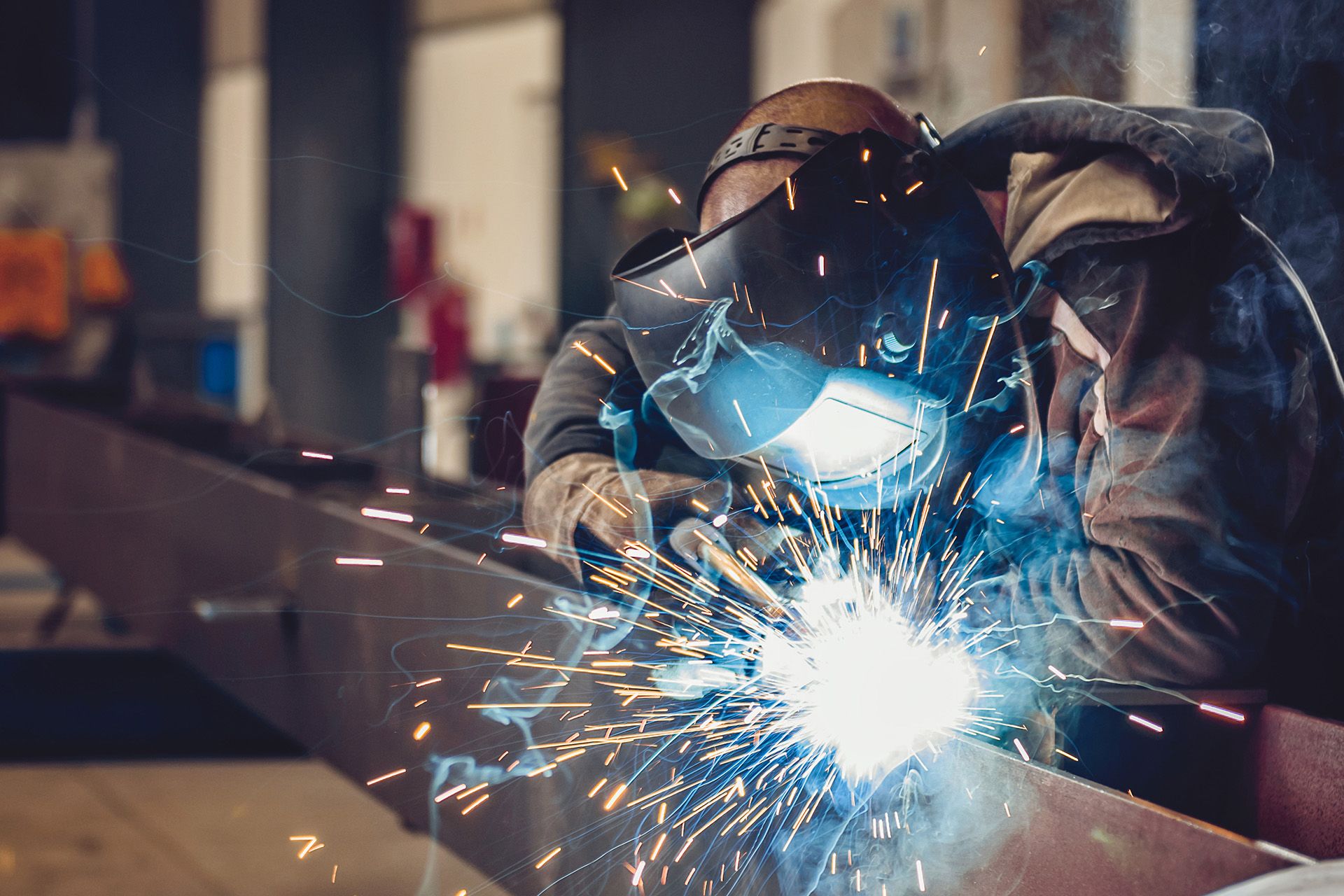 Welding
Ready yourself for a fulfilling, high-wage welding career in welding technology.
SMC offers an associate of applied science as well as a certificate in welding technology. Learn basic to advanced welding under the watchful eye of Certified Welding Inspectors—a high-level, difficult-to-attain designation given to only the best welders.
About the Welding Technology Degree

Welding technology at SMC teaches you everything you need to become a skillful, certified welder through hands-on instruction in a state-of-the-art welding lab from expert welders. You will gain highly marketable skills, including industrial robot programming and quality control skills.

From day one you'll be using real equipment to learn all the most common welding methods, including SMAW/stick, GMAW/MIG, GTAW/TIG, FCAW/flux core, and thermal cutting. While learning these welding processes, you will be working with ferrous and nonferrous metals in all the welding positions. You'll learn welding inspection, metallurgy, welding fabrication, and maintenance repair as well as essential workforce skills such as construction math, blueprint reading, computer literacy, and workplace citizenship. You will even have the opportunity to earn a FANUC certification to get on the path to working with robots.

The one-year welding technology certificate program prepares you for immediate employment as a skilled welder. The two-year degree, which also prepares you for employment, builds on the certificate courses by adding general classes that position you for advancement in the workplace or further study.

After completing the welding degree or certificate program, you can test to certify in a variety of welding methods.

Both programs meet all the American Welding Society's SENSE requirements for basic and advanced welding.

What You'll Learn
What Can I Do With a Welding Degree?

Welding is the process of combining materials (usually metal) using high heat. It may also involve patching metal, plastic, glass, or other materials. Welding is used in nearly every manufacturing industry from shipbuilding and construction to pipelines, aerospace, oil rigs, and automotive, including high-performance racing.

While a welder's main job is to weld, they also have to have critical thinking skills, read blueprints, calculate weld dimensions, inspect materials, and maintain equipment.

Many career paths are open to welders depending on their certification, education, and experience. Examples include inspection, education, engineering, project management, robotics, and sales. Opportunities exist for travel and welding in unique places such as underwater welding at the bottom of the ocean.

Skilled welders are in great demand because they are needed in almost every industry. Welders are said to be 'immune' to the economy because they can simply change to a thriving industry and stay on the same career path. The average median salary for a welder is $47,540 though some can make over $100,000.
School of Advanced Technology Overview
School of Advanced Technology Video
Watch More